VOV President's 2023 Lunar New Year address to audience
Sunday, 14:40, 22/01/2023
VOV.VN - Do Tien Sy, Member of the Party Central Committee and President of the Voice of Vietnam (VOV), extends his 2023 Lunar New Year's greetings to Vietnamese, Overseas Vietnamese, and foreign audiences.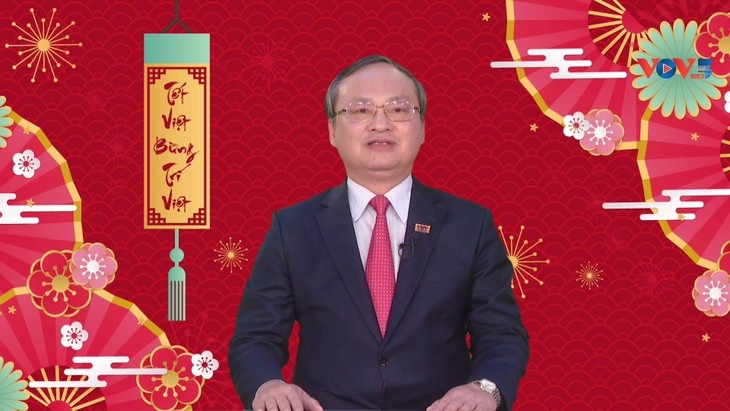 "Ladies and gentlemen, listeners of the Voice of Vietnam.
Vietnamese compatriots living and working abroad!
Lac Hong's descendants working or studying abroad, together with the whole Vietnamese nation, are nostalgically saying goodbye to the old year of the Tiger 2022 and excitedly entering the Year of the Cat 2023 with a sense that something good will happen.
I would like to extend my love, sincere greetings, and best new year wishes to those Vietnamese who are living far from home. Overseas Vietnamese, wherever they may be, are always an inseparable part of the beloved Vietnamese Fatherland.
I would like to send to you, the domestic and foreign listeners of the Voice of Vietnam, my best wishes for much success and happiness in 2023.
Dear compatriots and listeners!
In 2022, despite global and domestic challenges, Vietnam, under the Party and State's leadership, continued its development momentum, overcame all difficulties, and gained commendable achievements in many fields. Vietnam's macro economy remained stable, with 8.02% GDP growth, a high growth rate compared to the rest of the world.
In 2022, Vietnam's trade turnover set a new record of US$732 billion; economic growth recovered, social security was ensured, and security and defense were unwavering. Vietnam's foreign relations continued to grow stronger bilaterally and multilaterally. Vietnam's global reputation rose.
As Party General Secretary Nguyen Phu Trong said at the closing session of the 6th plenum of the 13th Party Central Committee, on October 9, 2022: "We have successfully and comprehensively accomplished the goals and tasks of focusing on epidemic prevention and control, while promoting socio-economic recovery and development, building an independent, self-reliant economy coupled with proactive and effective international integration."
2022 was a meaningful year for the Voice of Vietnam.
The Voice of Vietnam continued to affirm its role as the leading multi-media, multilingual press agency in Vietnam, informing the public at home and abroad in a full and vivid way about the country's events and major issues in politics, economics, diplomacy, security, defense, culture, society, and sports.
Through audience feedback, interaction and sharing from all over the world, the Voice of Vietnam served as a lively, attractive and effective official communication channel about Vietnam and a bridge connecting Vietnam to international friends and Overseas Vietnamese.
Embarking on the Year of the Cat 2023, we look forward to continuing to receive the attention, valuable comments, and suggestions of our audience to make our programs more accessible to the public. The Voice of Vietnam will continue to innovate in the way it transmits information to be worthy of the trust and love of our domestic and foreign listeners.
The Voice of Vietnam would like to wish all listeners, especially Overseas Vietnamese, a new year full of health, happiness, peace, and prosperity."