Vietnam starts clinical trial of ARCT-154 vaccine, phases 2,3
Thursday, 07:52, 30/09/2021
VOV.VN - Vietnam is starting phases 2 and 3 of its human clinical trial of the ARCT-154 vaccine against COVID-19 following the encouraging results of the first phase.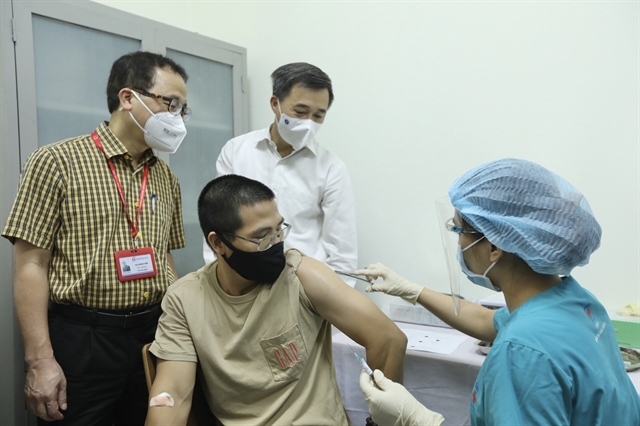 About 100 volunteers in Hanoi took part in the first phase of the trial which was carried out in mid-August.
A midterm report on the safety of the ARCT-154 vaccine was approved on September 20 by the National Ethics Committee in Biomedical Research under the Ministry of Health. Preliminary results showed that the vaccine was safe in healthy volunteers.
More than 20,000 volunteers have registered to join phases 2 and 3 of the trial in Bac Ninh and Hung Yen provinces in the north and Vinh Long, Tien Giang and Dong Thap provinces in the south.
As soon as the results of phase 3 are available, the Ministry of Health will make the final assessment of the effectiveness and protection rate of this vaccine, said Dr. Nguyen Ngo Quang, deputy director of the Sci-Tech and Training Department, under the Ministry of Health.
It is expected that the research team will evaluate and report the test results on December 30 after phase 3a ends in late November. If the vaccine proves effective, researchers will then submit a request for an emergency use of the vaccine in Vietnam.
The self-amplifying mRNA vaccine is developed by the US-based Arcturus Therapeutics who partners with VinGroup's VinBioCare for support in clinical trials and manufacturing at a facility in Hanoi.
The technology allows a lower dose of vaccine, while the immune stimulation lasts longer, for a quick and simple prevention of the COVID-19, and is capable of fighting mutated variants of coronavirus such as Alpha, Beta, Delta and Gamma.
Professor Tran Van Thuan, Deputy Minister of Health, said his ministry hopes the research process will complete its third phase by the end of the year, and Vietnam could have more autonomy in vaccine supplies amid global shortage.
Besides Nano Covax and Covivac, ARCT-154 is one of the three vaccines that are undergoing human clinical trials in Vietnam,