Vietnam reviews implementation of Global Compact for Safe, Orderly and Regular Migration
Tuesday, 10:38, 23/11/2021
Vietnam's implementation of the Global Compact for Safe, Orderly and Regular Migration (GCM) was reviewed at a conference co-organised by the Ministry of Foreign Affairs and the International Organisation for Migration (IOM) on November 22.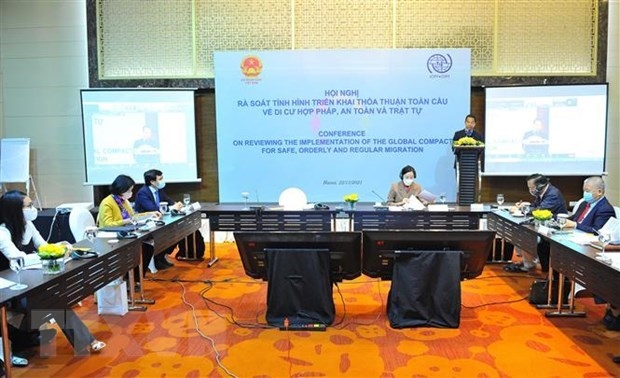 The event, held both online and in-person, brought together 250 delegates from competent agencies, ministries and international organisations.

The participants sought ways to raise the efficiency of the GCM implementation, and looked into Vietnam's national report to be presented at the International Migration Review Forum scheduled for May 2022 in New York.

The foreign ministry is coordinating with relevant ministries and agencies to complete the report and send it to the United Nations Economic and Social Commission for Asia and the Pacific.

The International Migration Review Forum shall take place every four years beginning in 2022. Each edition of the International Migration Review Forum will result in an intergovernmentally agreed Progress Declaration.

In his remarks, Deputy Foreign Minister To Anh Dung pointed out challenges to migration management amid the COVID-19 pandemic, especially given the complexity of illegal migration activities.

Regarding Vietnam's realisation of the plan implementing the GCM, he said despite a range of difficulties, ministries, agencies and localities have worked hard in this regard.

Sharing Dung's views, Mihyung Park, Chief of Mission at the IOM Vietnam, said the pandemic has posed various difficulties to relevant sides, particularly migrants, making them one of the most vulnerable groups.

She, therefore, called on countries to step up efforts to ensure safe, orderly and regular migration.

Park spoke highly of Vietnam's active contributions to the building and ratification of the GCM, as well as the country's strong commitments to promoting safe, orderly and regular migration.