Vietnam donates US$100,000 to US to overcome tornado consequences
Wednesday, 23:45, 05/01/2022
VOV.VN - Vietnam on January 5 handed over US$100,000 from the Vietnamese Government and people to support bereaved families of tornadoes that struck the US State of Kentucky last December.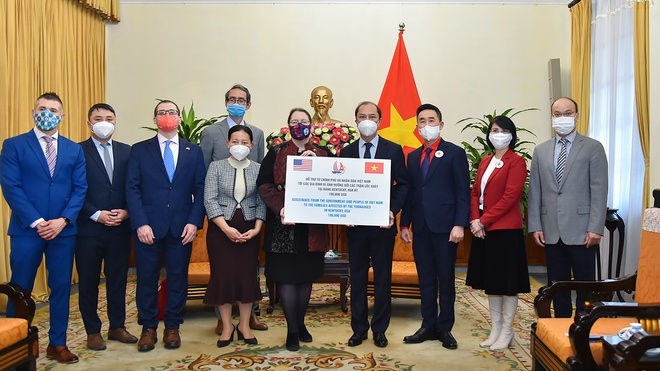 Addressing the handover ceremony, Vietnamese Deputy Minister of Foreign Affairs Nguyen Quoc Dung shared deep sympathy over the great loss American people suffered and believed that the US government and people would soon overcome the consequences of the disaster in Kentucky.
He emphasized the spirit of friendship, cooperation and mutual support to surmount difficulties between the Governments and people of the two countries, especially in the context of the outbreak of the COVID-19 pandemic.
For her part, Chargé d'Affaires at the US Embassy in Vietnam Marie Damour thanked the Vietnamese Government and people for their timely support, and voiced her hope that good bilateral relations between the two countries, including between their Red Cross organisations, would continue to develop in the future.