Vietnam assumes Chair of ASEAN Education
Wednesday, 18:23, 16/03/2022
VOV.VN - Taking on the role of Chair of ASEAN Education for 2022 - 2023, Vietnam will strive to do its utmost to realise the major priorities and orientations for ASEAN education in the future, said Minister of Education and Training Nguyen Kim Son.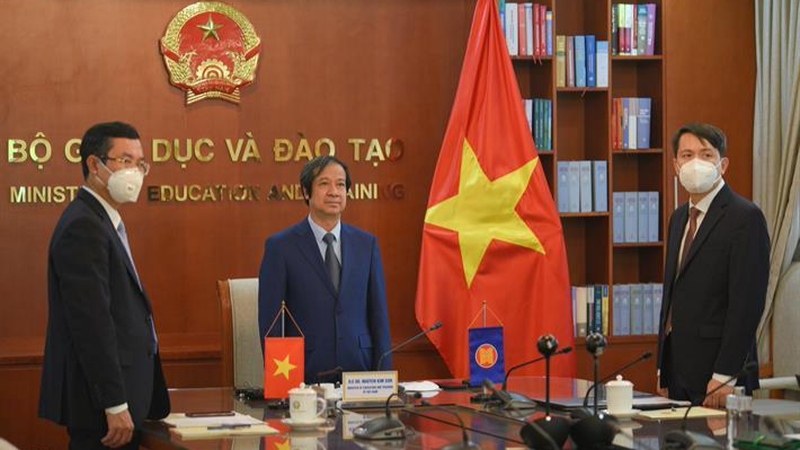 Minister Son made the statement at a ceremony held on March 16 to receive the Chairmanship of ASEAN Education from the Philippine.
He congratulated the Philippine's Department of Education on successfully performing its role in 2020-2021 despite facing challenges caused by COVID-19.
The minister also noted that the prolonged COVID-19 pandemic has negatively affected the education sector, causing school closures, but ASEAN member states have strived to overcome unprecedented shocks moving into the new context.
This is a transition period that requires learners, schools, and parents to be ready to adapt to any form of learning, including both face-to-face and virtual, said Son, adding top priorities will be given to developing a more resilient education system that is capable of withstanding and recovering in the face of future crises.
The main emphasis, according to the minister, will be placed on taking care of learners' mental health, enhancing education on environmental protection and climate change, and ensuring equitable access to education for learners, especially disadvantaged groups.
Oher priorities, he said, will also be given to promoting comprehensive digital transformation and ensuring cyber safety for learners, along with making reforms in higher education to meet the set requirements for socio-economic development.
At the ceremony, ASEAN Secretary General Lim Jock Hoi expressed his belief that Vietnam will successfully perform its role to build a more resilient education system in the region.