UNFPA presents dignity kits to women, girls in pandemic-hit areas
Tuesday, 19:30, 22/06/2021
The United Nations Population Fund (UNFPA) in Vietnam has presented 5,100 Dignity Kits to women and girls at risk of gender-based violence as a result of the COVID-19 pandemic in the northern provinces of Bac Giang and Bac Ninh, and Ho Chi Minh City.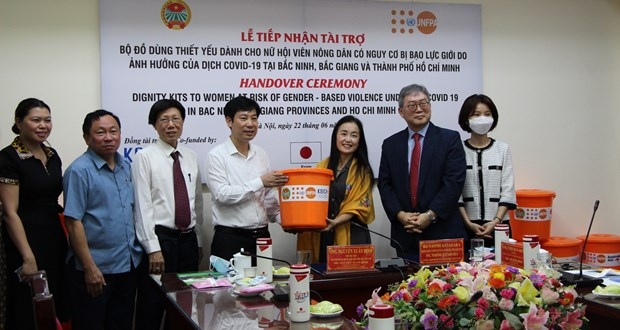 UNFPA Representative for Vietnam Naomi Kitahara handed over the kits to Vice Chairman of the Vietnam Farmers Union (VFU) Central Committee Nguyen Xuan Dinh at a ceremony in Hanoi on June 22.
Dignity Kits are a signature product of UNFPA's comprehensive package of humanitarian assistance, and the June 22's delivery of the kits was made possible in partnership with the Korea International Cooperation Agency (KOICA), the Government of Australia and the Government of Japan. The aim is to safeguard sexual and reproductive health and rights of women and girls, mitigate the risk of gender-based violence, and protect the dignity of women and girls adversely affected by a crisis.

Addressing the event, Dinh highly valued the support and coordination that the UNFPA has given to the VFU in the fields of population, productive health, gender equality, and the prevention of gender-based violation against women and girls.

Last year, when Vietnam suffered from impacts of both the COVID-19 pandemic and severe natural disasters, the country received great support from the UNFPA in Vietnam, KOICA and the governments of Japan and Australia, he said, adding that the VFU received and handed over 15,707 Dignity Kits to women and girls in affected localities.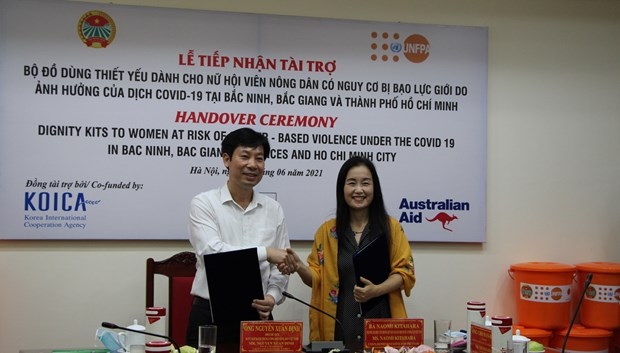 He pledged that the union will deliver the 5,100 kits to women and girls in COVID-19 hit localities of Bac Giang (2,397 kits), Bac Ninh (1,438 kits), and HCM City (1,259 kits) as soon as possible.

He expressed hope to continue receiving support from KOICA and the Government of Japan in enhancing capacity for the union's officials in supporting Vietnamese farmers to sell their products.

For her part, Naomi Kitahara said that since the 1990s, the UNFPA has provided the Dignity Kits to women and girls during humanitarian crisis across the world.

"We must ensure that all women and children in Vietnam, including those most vulnerable such as in COVID-19 context, live a life free of violence, and support for them should be prioritized as part of the COVID-19 response", she said, adding that it is about making sure that everyone is part of the country's sustainable development process, leaving no one behind.