UNDP and Norway support Vietnamese marine spatial planning
Thursday, 11:24, 24/11/2022
VOV.VN - The UN Development Program (UNDP) and the Norwegian Embassy signed an agreement on November 23 in Hanoi to support the planning of national marine space for ocean sustainability and climate change response in the country over the next three years.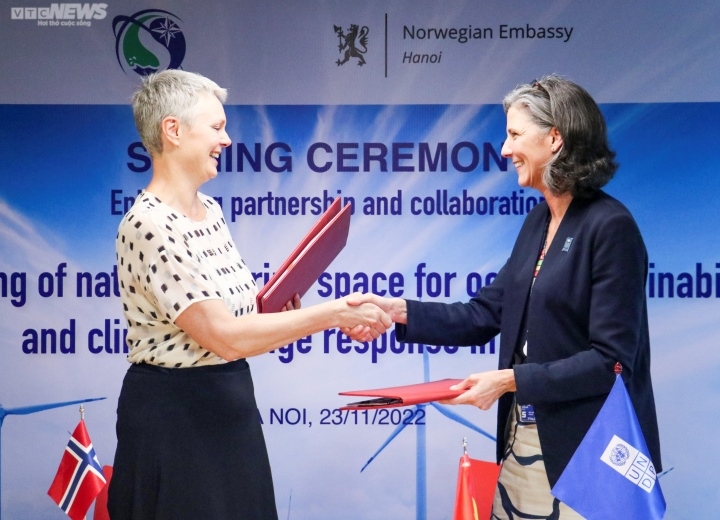 The new technical package aims to assist the Vietnamese Government to implement the Marine Spatial Planning (MSP), thereby creating and establishing a more rational marine space structure, whilst finding a balance between growth demand and demand for maintaining marine ecosystem and socio-economic goals.
Norwegian Ambassador to Vietnam Hilde Solbakken stated that the Scandinavian country is keen on sharing its experience with the Vietnamese side in building and developing marine space planning.
To become a high-income economy by 2045 and achieve its net zero emissions target by 2050, Vietnam must transform its growth model, especially through a successful energy transition, whilst capitalising on the potential for developing a green economy, she noted.
The diplomat suggested that the Vietnamese side strive to improve its capacity for sustainable ocean management, in which marine spatial planning plays an important role.
According to UNDP, Vietnam has one third of its population residing in coastal areas, meaning that the over-exploitation of natural marine resources, climate change, ocean pollution, and marine debris have greatly impacted on people's lives. Marine resources, including local coral reefs, have been severely degraded.
The technical package is expected to assist the country to diversify the economy, respond to climate change, including marine renewable energy, offshore wind power, marine-derived pharmaceuticals, and enhance the production of seaweed in line with environmental protection requirements.