UNDP affirms commitment to Vietnam's development goals
Sunday, 16:38, 29/05/2022
VOV.VN - The United Nations Development Program (UNDP) in February approved a new Country Program Document from 2022 to 2026 for a green, prosperous Vietnam with no one left behind.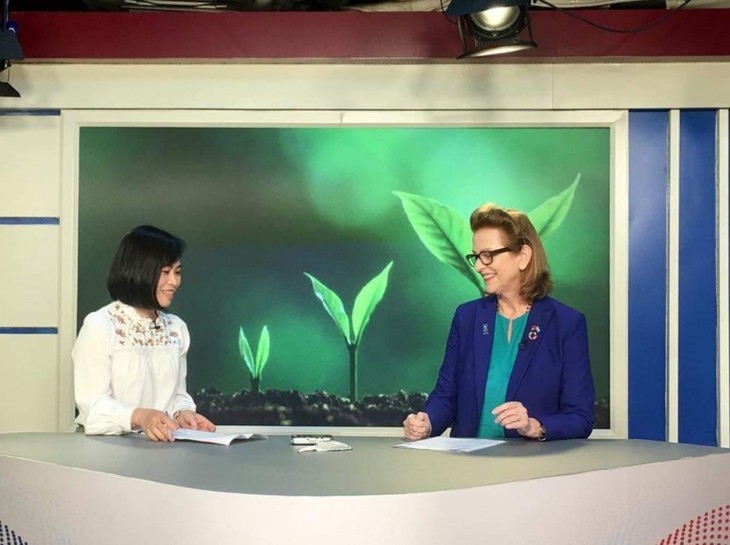 In the next five years, UNDP will prioritize the process of transforming a green, sustainable and inclusive growth model, committing to continue accompanying Vietnam in development. 
UNDP's program aims to support the government to accelerate goals, guided by the UNDP Strategic Plan's three outcomes: Shared prosperity through sustainable economic transformation; Climate change, disaster resilience and environmental sustainability; and Governance and access to justice. 
"The areas were a few that they particularly highlighted for strengthening and focusing UNDP partnership with Vietnam at this time. And the first was really green, inclusive economic rebound from COVID-19. That was the primary priority. The second was equitable, just energy transition – very important for Vietnam at this stage. And, clearly, Vietnam is putting a lot of its own funding into this transition, but we need support from the global community in doing so," said UNDP Resident Representative in Vietnam Caitlin Wiesen.
"The third area was looking at climate finance and its strategy for mobilizing national and international, public and private, resources for a climate transition. And the fourth area was looking at digital transformation, and all this in the context of building a green, prosperous Vietnam with no one left behind", she added. 
For UNDP, Vietnam has always been at the forefront of poverty reduction. According to UNDP Resident Representative Wiesen, Vietnam has reduced poverty in the most equitable way possible, especially when compared with other countries in Southeast Asia.
Another area where Vietnam is also a leader is multidimensional poverty reduction. Multidimensional poverty means that income is not the only important measure, but also access to education and social services The rate of multidimensionally poor households in Vietnam has decreased from about 18% in 2012 to below 4% at the present time.
"We want to commend Vietnam during COVID over the last two years, and particularly last year,which was very difficult fort hose who are most vulnerable. At that time the decision was made by the government to raise the multidimensional poverty level, the income level which enables more people to benefit. Over 8 million people were able to benefit from the multidimensional poverty relief that it provided," said UNDP Resident Representative Caitlin Wiesen.
Vietnam is entering a very challenging period. Like many countries worldwide, there are many crises occurring simultaneously, such as climate change, the fuel price hike, the supply chain disruption, and the impact of the Russia-Ukraine conflict. In this context, it is necessary to look at growth, not only as economic growth, but with regard to the Sustainable Development Goals. The real challenge today is to move towards inclusive growth, green growth, so that no one is left behind, especially the vulnerable and those most affected by the pandemic. In that process, UNDP will accompany and support Vietnam to overcome challenges and develop, Wiesen noted.
"Areas that we would recommend at this time are looking particularly at strengthening the domestic market and the domestic sectors and ensuring that growth is going to benefit domestic firms. I think that is extremely important. That means building national competitiveness. That means looking at building the productive capacity of firms. And that means also growing the domestic market – micro, small and medium enterprises," Wiesen stressed.
"The growth of the future is growth that is green, growth that is inclusive, and growth that leaves no one behind. We believe that Vietnam is well positioned to lead and develop this model and be the model for the rest of the world to follow."
This year has a special significance, marking 45 years since Vietnam joined the United Nations – a leading, trusted partner for peace and development in the world and a trusted and long-term friend of Vietnam in all fields. The national target program 2022-2026 that UNDP is committed to, supporting Vietnam in a new stage of development, is very important for a green, prosperous, resilient country where no one is left behind.