Two Indian Navy ships visit Ho Chi Minh City
Friday, 18:09, 24/06/2022
VOV.VN - Two Indian Navy ships, INS Sahyadri and INS Kadmatt, docked at Saigon Port on June 24, marking the start of a goodwill visit to Ho Chi Minh City which will last from June 24 to June 26.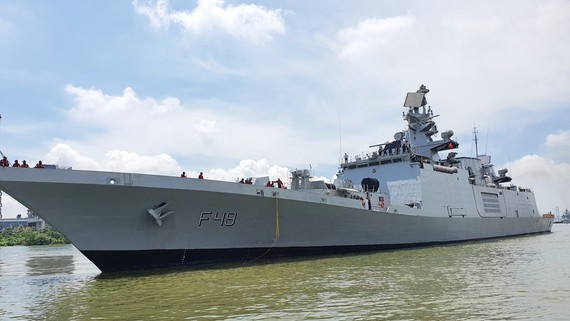 Upon addressing a press conference onboard INS Sahyadri, Rear Admiral of the Indian Navy Sanjay Bhalla highlighted the great significance of the visit amid both countries marking the 50th anniversary since the establishment of diplomatic ties and the fifth anniversary since the establishment of the India-Vietnam comprehensive strategic partnership.
Rear Admiral Bhalla highlighted that mutual relations, especially relating to defence co-operation, have been improved through the recent visit made to the nation by the Indian Defence Minister.
During the visit, both nations signed a statement relating to a Vietnam-India defence partnership with a joint vision towards 2030, as well as a memorandum of understanding on mutual support in logistics between the country and India's Ministries of Defence.
Rear Admiral Bhalla used the occasion to affirm that both sides shared similar views on the importance of maintaining peace, security, and freedom of both navigation and overflight in the East Sea, while settling disputes at sea through peaceful means on the basis of international law, including the 1982 UN Convention on the Law of the Sea (UNCLOS).
The INS Sahyadri is the third ship of the P17 class of stealthy guided missile destroyers, with the ship being designed in-house by the Indian Navy's Design Institute and built by Mazagaon Dock Co., Ltd., Mumbai.
The INS Kadmatt (P29 class) is the second out of four domestically-produced anti-submarine warfare frigates in the Indian Navy's Plan 28, which aims to modernise the Navy through manufacturing anti-submarine stealth corvettes.