Tropical low depression brings heavy rain to northern Vietnam
Monday, 07:20, 19/07/2021
VOV.VN - A tropical low depression has formed in the northern part of the East Sea and is anticipated to cause heavy rain in northern provinces of Vietnam in the coming days.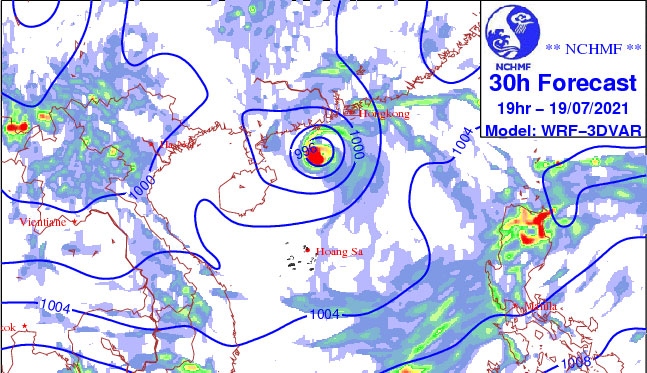 At around 01.00am on July 19, the tropical low depression was swirling around the waters off Hong Kong, with winds gusting more than 50kph, according to the National Centre for Meteorological Forecasting.  
In the next 24 hours, the tropical depression is forecast to move north and north-west at a speed of 5kph and is likely to increase its strength.
Although it moves slowly, the depression will cause rough seas and heavy rain on the way it travels.
Meanwhile, a low pressure trough, which is moving across northern provinces, will connect with the tropical low depression, to dump lashing rain on the region, with rainfall expected to hit 200mm or above.
Meteorologists warned against a possibility of thunderstorms, whirlwinds, lightning, as well as a risk of flash floods and landslides in mountainous provinces.