Sinking cargo ship leaves three sailors missing after 12 crew members found
Friday, 12:48, 18/12/2020
VOV.VN - A total of 12 crew members were successfully found on the morning of December 18 following a cargo vessel bearing the flag of Panama sinking off the coast of the central province of Binh Thuan on December 17.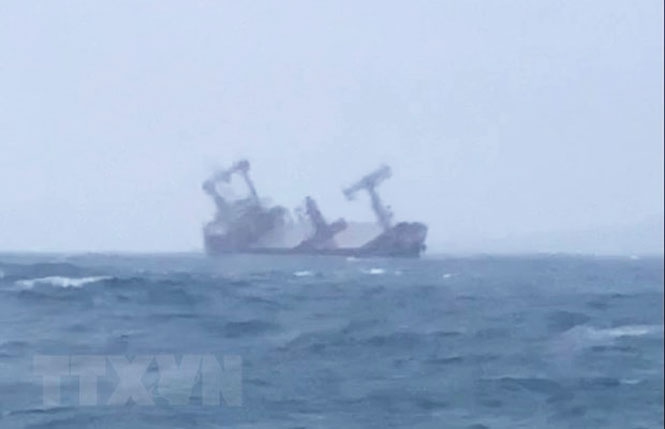 Despite rescue efforts, one of the sailors was found dead, according to details released by Bui The Nhan, chairman of the People's Committee of Phu Quy district.
Following the successful attempt to save some of the crew members, the sailors are currently being taken care of by rescue forces on a Coast Guard ship ahead of their transfer to Phu Quy island in order to fully comply with quarantine regulations.
Moreover, rescue efforts to locate the three remaining sailors are ongoing.
The Department of Natural Resources and Environment has also requested that relevant agencies prepare for an oil spill incident, whilst notifying aquaculture farming households to implement relevant preventive measures.
This comes after the ship, which was in the process of carrying clay from Malaysia to Hong Kong (China), was off the coast of Binh Thuan province at 4:30 p.m when its captain contacted border guard forces of Phu Quy island. He informed them that the vessel was in the process of tilting due to the clay leaning on one side of the ship, according to border guard forces of the central province.
A total of 15 crew members, including 11 Chinese and four Vietnamese nationals, were on board the vessel at the time.
The ship's captain therefore requested for the vessel to dock at Phu Quy island to resolve the problem and was given permission to do so. However, when it was locates some 1.5 nautical miles away from the Phu Quy port, the ship tilted hard before sinking.