PM requests tightening COVID-19 prevention and control measures
Saturday, 21:08, 04/12/2021
VOV.VN - The Prime Minister released a telegram on December 4 requesting ministries, agencies and localities to tighten COVID-19 prevention and control measures against the possible spread of the mutated variant Omicron in the country.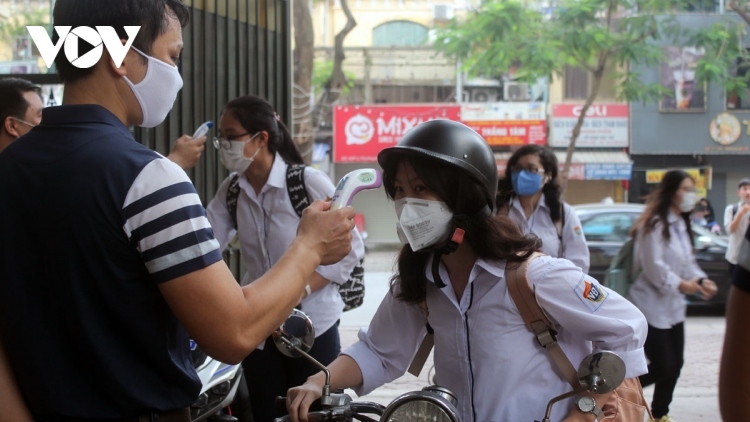 According to the PM, the COVID-19 outbreak has basically been brought under control since the Government issued a resolution on flexibly and safely adapting to and effectively controlling COVID-19 nearly two months ago.
However, he says the outbreak remains complicated in several localities and the Omicron variant has been recorded in a number of countries, raising public concern about the possible spread of the new variant in Vietnam.
The PM requests ministries, agencies and localities to strictly implement the Government's resolution, and proactively assess risk levels in order to come up with appropriate prevention measures, without hindering business production and affecting people's lives.
The Government leader also asks them to spur socio-economic development, and speed up vaccinations along with observing COVID-19 guidelines including the 5K message set out by the Ministry of Health.
As of 06pm on December 4 Vietnam has confirmed 1,294,778 COVID-19 cases since the start of the first outbreak in January 2020, ranking 35th out of 223 countries and territories worldwide.
On December 4 alone it recorded 13,998 new coronavirus infections, with more than half of them detected in the community.
First reported in southern Africa more than a week ago, the Omicron variant has since spread to dozens of countries globally.
Vietnam has yet to detect any cases of the Omicron variant, although experts have warned that the variant may enter the country unless prevention measured are tightened. Two of Vietnam's regional neighbours - Malaysia and Singapore - reported their first cases of this mutated variant this week.
The World Health Organization (WHO) has already labeled Omicron a "variant of concern" due to a large number of mutations that could contribute to making the variant more contagious.