Phenikaa Group launches US$2-million scholarship fund
Friday, 14:58, 13/05/2022
Phenikaa Group has launched a GBP1.5 million (nearly US$2 million) scholarship fund, giving opportunities for students to study in the UK.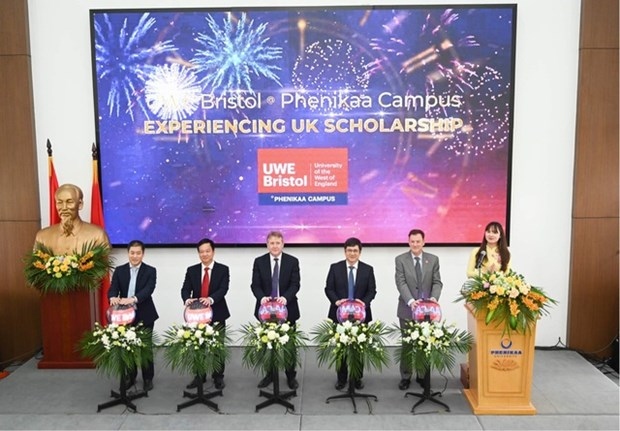 The "Experiencing UK" scholarship fund aims to improve students' ability to integrate internationally, contributing to enhancing cultural and educational exchanges between Vietnam and the UK.

The fund will finance a two-week summer course in the UK for 1,000 students, worth GBP1,500 each, covering the studying and accommodation costs in the UK.

The scholarship is part of a cooperation deal between the Phenikaa University and the University of the West of England, Bristol (UWE Bristol).

According to the deal, UWE Bristol will offer seven bachelor programmes from 2022-2023 in Business Administration; Business and Marketing; Events Management; Accounting and Finance; Computer Science: Artificial Intelligence; Computer Science: Smart Device Development; and Information Technology.

UWE Bristol has been ranked in the top 500 universities in the world by The Times Higher Education's rankings and in the 21 best universities in the UK.

The programmes are taught entirely in English and are based on the philosophies of experiential education, creativity and entrepreneurship. In addition, students will be accompanied by UWE Bristol – Phenikaa Campus teachers and experts throughout the process.

Professor Ray Priest, Director of International Cooperation for Asia-Pacific of UWE Bristol, said the course is an opportunity for students to come to the UK to learn and work in a multicultural international environment, expand their thinking, knowledge and connect with students from different countries.

Nguyen Anh Dung, Deputy Director of the Tertiary Education Department under the Ministry of Education and Training, said the ministry always supports cooperation between Vietnamese universities and their foreign counterparts in research and training at undergraduate and postgraduate levels, thereby contributing to the formation of high-quality human resources.