Nui Chua receives UNESCO world biosphere reserve certificate
Thursday, 12:29, 14/04/2022
VOV.VN - The southcentral province of Ninh Thuan has received a certificate recognising Nui Chua as a world biosphere reserve from the UN Educational, Scientific and Cultural Organization (UNESCO).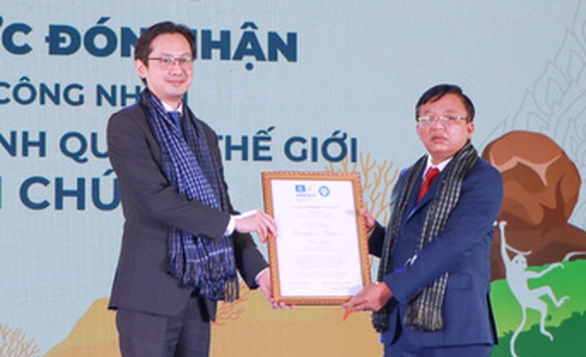 At a ceremony held on April 14, representatives from UNESCO and the Ministry of Foreign Affairs granted the certificate to Le Huyen, vice chairman of the Ninh Thuan Provincial People's Committee.
Nui Chua Biosphere Reserve lies within Nui Chua National Park and boasts a total area of ​​more than 106,646 hectares, as well as a core area of more than 16,400 hectares. The site spans the two districts of Ninh Hai and Thuan Bac, roughly 30 kilometres northeast of Phan Rang - Thap Cham in Ninh Thuan province.
The reserve is notable for having a peculiar topography converging three natural areas of forest, sea, and semi-desert. It is also considered to have the harshest climate in Vietnam with a low rainfall and hot weather throughout the year. 
Furthermore, with a sea area of 7,352 hectares, the underwater ecosystem of the Nui Chua Biosphere Reserve is also equally rich. Every year, sea turtles arrive to lay eggs, while the site is home to the country's largest coral reef with 350 species.
The Nui Chua Biosphere Reserve is also blessed with 1,514 species of flora, of which 54 are recorded in the Vietnam Red Data Book and the International Union for Conservation of Nature's (IUCN) Red List.
Moreover, it is also home to 766 animal species, of which 48, including black-shanked douc and the Vietnamese mouse-deer, are recorded in the Vietnam Red Data Book and the IUCN's Red List.