More Vietnamese volunteer soldiers' remains repatriated from Cambodia
Thursday, 19:18, 25/05/2023
VOV.VN - The People's Committee of the Central Highlands province of Gia Lai held memorial and burial services on May 25 at the Martyrs' Cemetery in Duc Co district for the remains of 22 Vietnamese volunteer soldiers who lost their lives during historical conflicts in Cambodia.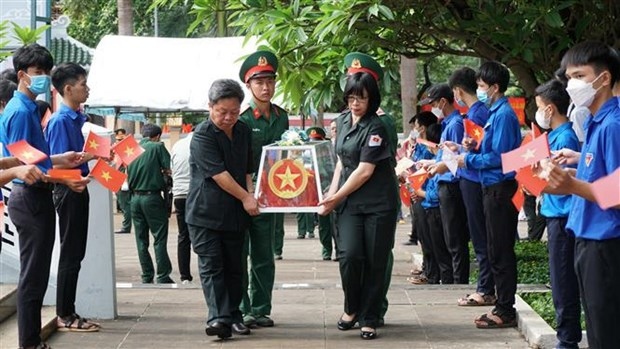 The remains were searched and repatriated by Team K52 under the Gia Lai Military High Command and the Military Regions 1 and 4 of the Royal Cambodian Army during the 2022 to 2023 dry season.

Delegates respectfully offered flowers and incense in order to express their great gratitude to the martyrs who had sacrificed their lives for the cause of peace of both nations and international missions.
As part of her address, Nguyen Thi Thanh Lich, vice chairman of the provincial People's Committee, said the nation will continue to preserve and nurture the solidarity and friendship that exists between Vietnam and Cambodia.

The search and repatriation of Vietnamese volunteer soldiers who passed in Cambodia started in 2000.

Originally established in 2001, Team K52, with assistance from the Royal Cambodian Army, has so far found and reburied the remains of 1,468 Vietnamese  volunteer soldiers from Cambodia.