Italy, France donate nearly 1.5 million vaccine doses to Vietnam
Tuesday, 12:57, 14/09/2021
VOV.VN - France and Italy have presented approximately 1.5 million doses of the AstraZeneca COVID-19 vaccine via the COVAX Facility to aid Vietnam's ongoing fight against the pandemic.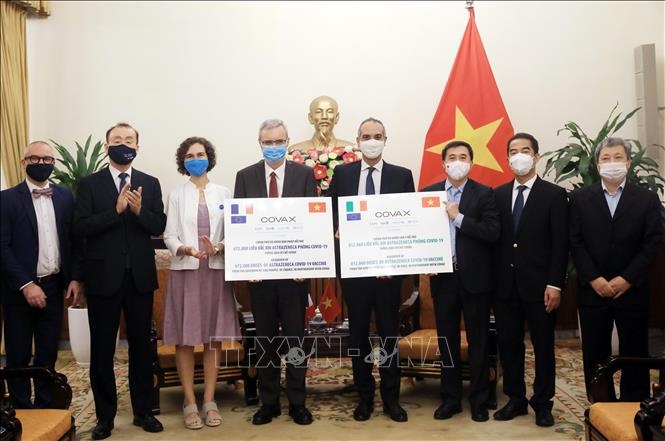 Of the total, France donated 672,000 doses while Italy gifted 812,060 doses to the country.
The handover ceremony was held on September 14 by the Ministry of Foreign Affairs in Hanoi.
Addressing the event, Deputy Minister of Foreign Affairs To Anh Dung thanked both the French and Italian Governments and people for their ongoing support, particularly as Vietnam strives to speed up its vaccination campaign.
Amid continued complicated developments caused by COVID-19, the Vietnamese Government has identified accessing a range of vaccine supplies as a key part of its vaccine strategy, helping to ramp up vaccination and repel the pandemic, said Dung.
Earlier Vietnam on September 10 received 30,000 doses of the AstraZeneca vaccine transferred by Papua New Guinea under a government-level agreement on vaccine transfer signed by Vietnam, Papua New Guinea, and GAVI.
Japanese Foreign Minister Toshimitsu Motegi also announced early this month that Japan will provide Vietnam, Thailand, and Taiwan (China) with an additional 440,000 doses of the AstraZeneca COVID-19 vaccine in the near future.
Japan has donated approximately three million doses of the AstraZeneca vaccine to Vietnam, with the shipments arriving in June and July.