HCM City to have over 300,000 job vacancies this year
Wednesday, 09:33, 05/01/2022
Understaffed companies and factories in Ho Chi Minh City will need up to 310,000 workers this year if the COVID-19 pandemic is brought under control, according to a survey of the Ho Chi Minh City Center of Forecasting Manpower Needs and Labor Market Information (Falmi).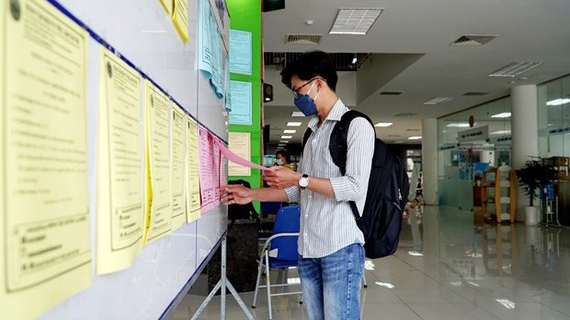 Falmi forecast two scenarios for the city's labor market depending on the COVID-19 situation.
In case the pandemic is brought under control, the city will need more workers for the recovery of trade and production. Businesses in the city would need to recruit 280,000 to 310,000 workers.
They would have nearly 87,000 job vacancies in the first quarter alone. The figure is forecast to be over 72,000 in the second quarter, 74,000 in the third quarter and 77,000 in the fourth quarter.
If the pandemic remains complicated in the second scenario, the city will need 255.000 to 280.000 laborers this year. The demand for human resources would be the highest in the first three months of the year, at over 78,000.
Trade and services are expected to be the sectors with the strongest demand for human resources this year. They would account for 66% of the city's total recruitment demand, mainly for commerce, transport and warehousing, accommodation, catering, information and communications, and the real estate business.
Industrial production and construction would account for over 33% of the total recruitment demand, including mechanical engineering, electronics production, food processing, beverages, and pharmaceuticals.
The survey found that up to 86% of job vacancies do not require workers to have a college degree.
According to Falmi, on average, the city has some 500,000 students and graduates each year, including from university, college, intermediate, elementary and vocational training levels.
Therefore, the center expected that the city's labor force would meet the recruitment demand of businesses this year.
Falmi forecast the city's labor force would reach nearly 5 million employees in 2021, of which more than 3 million work for enterprises and factories.
Last year, nearly 65,000 enterprises in the city had to recruit more than 174,000 workers, but the number of job seekers was only around 135,000.
The severe labor shortage was mainly caused by stringent social distancing measures to curb the spread of COVID-19, which forced many migrant workers to leave HCM City for their hometowns.