HCM City raises COVID-19 alert level, adopts stricter rules
Friday, 12:51, 23/07/2021
VOV.VN - As Vietnam's largest COVID-19 hotspot, Ho Chi Minh City has introduced more restrictive measures in an effort to curb the spread of the SARS-CoV-2 virus due to continued transmission throughout the locality.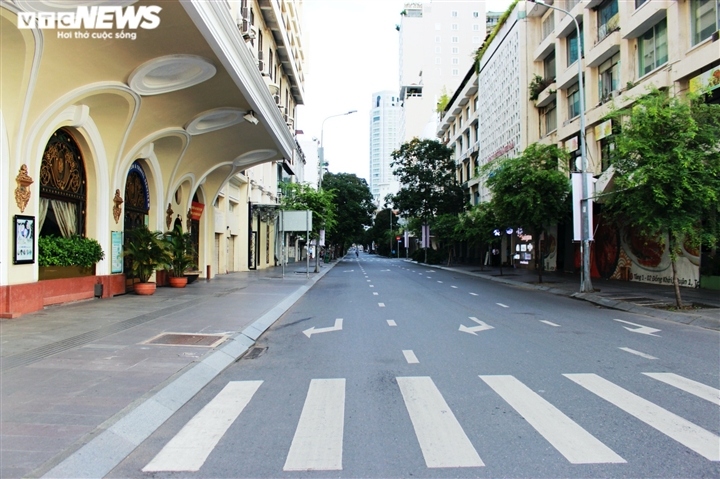 With the exception of medical emergencies, local residents in areas under lockdown will only be allowed to go out for food twice a week and must use coupons given by the local administration, according to a directive recently signed by Nguyen Van Nen, secretary of the Ho Chi Minh City Party Committee.
In areas which are judged to be at very high risk, residents are required to stay home and the local administration will deploy teams to distribute daily necessities to their door.
In isolation areas, people must strictly abide by COVID-19 guidelines, not leave their room and not come into direct contact with others, with the exception of cases of medical emergencies.
For F0 and F1 cases who are permitted to undergo home quarantine, they must strictly follow instructions set out by the Ministry of Health. Their relatives will be not allowed to leave their home, except for medical emergencies. In addition, food and other daily necessities will be provided by local authorities.
Furthermore, all houses located in small, narrow, and crowded lanes and alleys, are required to strictly implement social distancing rules.
All unnecessary construction works and traffic projects have been ordered to be suspended.
Only businesses that specialise in medical services, pharmaceuticals, food, and foodstuff processing, power and water supply, postal – telecommunications, and public sanitation services, will all be allowed to operate.
Other manufacturing enterprises are only permitted to operate on the condition that they ensure safety and strictly adhere to the 'three on the spot' rules, under which employees work, sleep, and eat at their workplace.
Wet markets are allowed to continue running in an open and airy space with a barrier between buyers and sellers. However, all markets must downsize by 30% and are encouraged to sell daily necessities.
The new restrictive measures come into force following Ho Chi Minh City just completing a two-week social distancing order.
Despite the latest policy, the fresh outbreak remains complicated in the southern metropolis. Known á the busiest and most populous city in Vietnam, the city has constantly recorded high infection and mortality rates, while its human resources and medical facilities have been overloaded.
The local administration expects that with more restrictive measures in place, the city will slow the spread of the virus, expand the safety zone, and eventually control high-risk areas.
The SARS-CoV-2 virus resurged in HCM City on April 29 following the detection of a community infection. It then spread silently, and by July 23 morning nearly 49,000 cases have been documented.
Experts say the fresh outbreak in the city has yet to reach its peak. Deputy Minister of Health Nguyen Truong Son, who is in HCM City for COVID-19 prevention and control, states the city is working hard to screen and isolate F0 cases in very high risk areas and trying to flatten the curve in the coming days.