HCM City honours religious volunteers supporting COVID-19 fight
Wednesday, 18:50, 13/10/2021
The Vietnam Fatherland Front (VFF) Committee of Ho Chi Minh City and the city's Committee for Religious Affairs on October 13 honoured 82 religious volunteers who have worded side by side with medical workers at local COVID-19 treatment hospitals.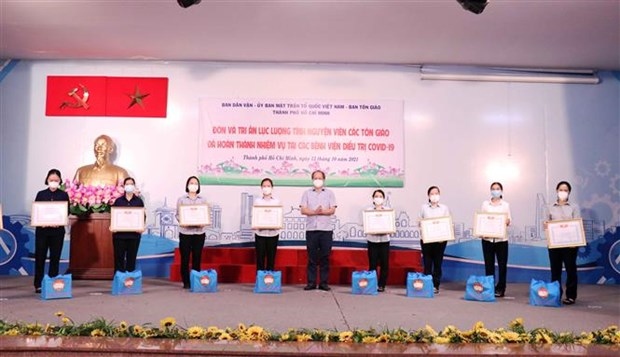 Addressing the event, on behalf of hospitals and clinics where the volunteers worked, Doctor Le Anh Tuan, Vice Director of the hospital for intensive care for COVID-19 patients thanked the volunteers for their assistance, which he said has helped medical workers complete their medical tasks.

Tuan noted that thanks to the joint efforts of medical staff and the volunteers, so far, 2,500 out of 3,800 COVID-19 patients with severe conditions at the hospital have recovered and been discharged.

To date, over 2,800 medical workers and volunteers from many hospitals, localities and training facilities across the country, including 387 volunteers from different religious, have worked at the hospital, he said.
 
Phan Kieu Thanh Huong, Vice President of the HCM City VFF Committee underlined that the precious support by religious dignitaries and followers has contributed to reducing the COVID-19 death toll in the city, and increasing the number of recovered patients.

On the occasion, the committee presented certificates of merit and gifts to the volunteers, who will undertake quarantine in line of regulations before returning home.

Since July 22, 670 religious volunteers have been sent to various hospitals for COVID-19 treatment across the city.