HCM City cautiously eases restrictions as from October 1
Thursday, 12:49, 30/09/2021
VOV.VN - Ho Chi Minh City is set to ease social distancing measures and move into a "new normal" state after September 30, although most activities will reopen in a cautious manner and follow the "Safety First" slogan, said a local leader on September 30 unveiling new decree on COVID-19 prevention.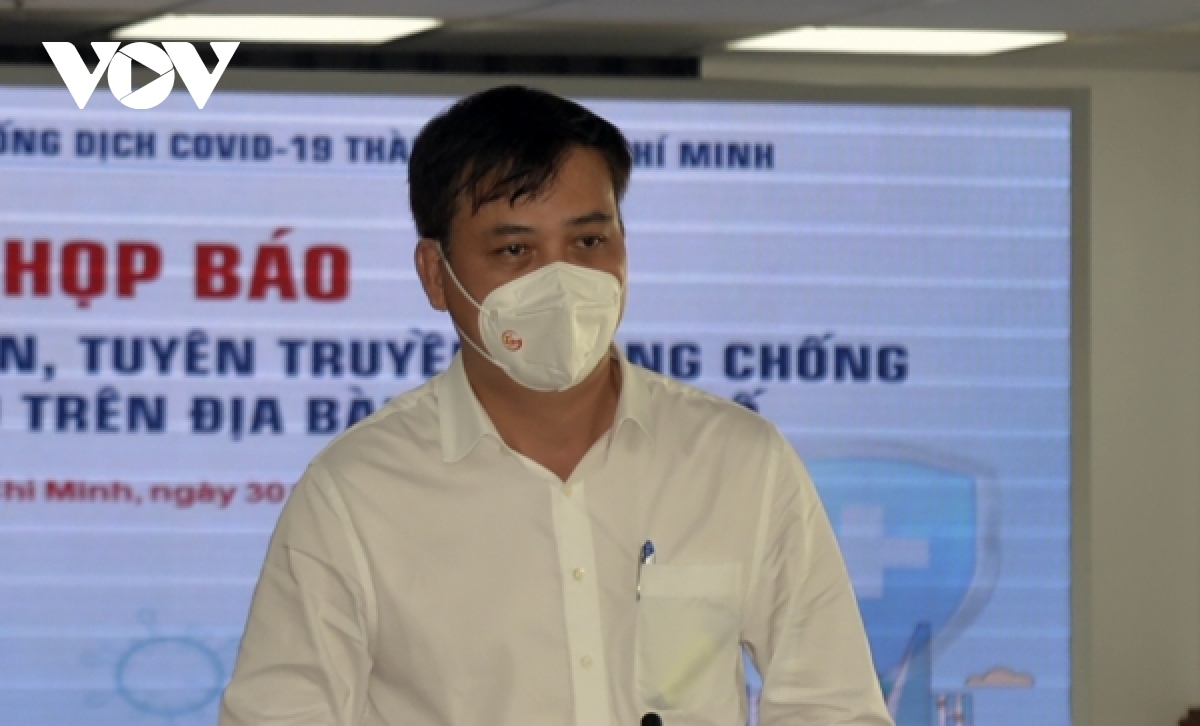 Easing COVID-19 restrictions will follow a roadmap corresponding to pandemic development locally and safety assessments from the Ministry of Health, Le Hoa Binh, vice chairman of the municipal administration, told media workers at a press briefing.
From October 1 the city will allow 14 business and production services to resume operation, while still banning cultural events, entertainment activities, and other services.
Going ahead with COVID-19 treatment model
HCM City will continue with a three-tiered treatment model which has proved effective during the past weeks, in order to limit severely-ill COVID-19 patients and reduce the fatality rate, said Binh.
Both public and private hospitals are required to enhance the capacity of COVID-19 treatment, while general hospitals will consider establishing their own COVID-19 department in future.
The city will continue to speed up vaccination, giving priority to frontline workers and local people in risky areas such as markets, bus stations, hospitals and schools. In addition, businesses and organisations are encouraged to self-test workers periodically following the instructions of the Health Ministry.
Localities will tighten the management and treatment of F0 cases if they are detected in the community, making it easier for socio-economic activities to gradually get back on track.
More mobile healthcare units for COVID-19 treatment will also be set up to take care of F0 cases at home.  
No travel between HCM City and neighbours
The new decree indicates that commuters will continue to use QR codes through the VNEID and "Y te HCM" applications which feature their history of COVID-19 vaccination.
Local people are required to follow the Health Ministry's COVID-19 guidelines and contact the nearest healthcare facility or dial hotline 115 if they show symptoms such as coughing, a fever, or shortness of breath.
The inter-provincial transport services by road, waterways, railways, and air will resume operation, following regulations formulated by the Ministry of Transport and the Ministry of Health.
Local residents are not allowed to travel to other cities and provinces, except for emergency cases.
The city will continue to maintain checkpoints at gateways to regulate traffic flows and monitor road users' observation of COVID-19 prevention and control measures.
HCM City has experienced over 120 days of various different levels of social distancing measures. The southern metropolis has recorded over 381,390 infections, or half the country's total, including 14,745 deaths, since April 27.
So far the COVID-19 outbreak has been brought under control in Districts 1 and 7, in addition to Can Gio, Cu Chi, Go Vap, Nha Be, Phu Nhuan, and Tan Binh districts, and Thu Duc City.