Fourth Asia-Pacific Red Cross Red Crescent Youth Forum held in Hanoi
Monday, 18:02, 20/11/2023
VOV.VN - The fourth Asia-Pacific Red Cross Red Crescent Youth Forum was held on November 20 in Hanoi.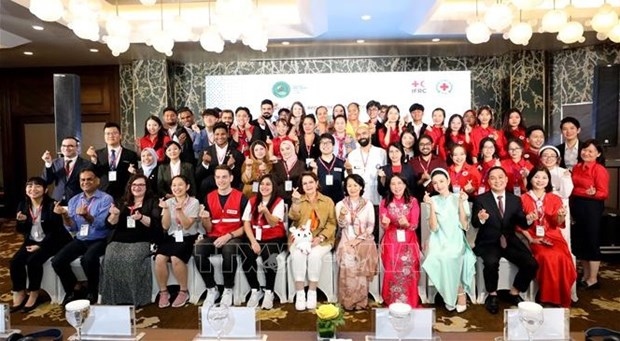 As part of her opening remarks at the event Huynh Thi Xuan Lam, vice president of the Vietnam Red Cross Society (VRC), hailed the selection of the theme "Resilience Rising: Inspiring Youths' Leaders in Innovative Disaster Preparedness" for the youth forum. She said that the theme affirmed the passion, high determination, and great efforts of young people in continuing the noble humanitarian missions of previous generations, as well as their role, task, and responsibility of joining hands to solve problems facing humanity.

She voiced her hope that young people from red cross associations in the Asia-Pacific region, including Vietnam, will come together to promote their intelligence, youth, creativity, and enthusiasm to participate in and actively contribute to the success of the forum; along with affirming their pioneering role in activities and initiatives of the regional and international Red Cross - Red Crescent movement.
Maha Barjas Hamoud Al Barjas, vice president of the International Federation of Red Cross and Red Crescent Societies (IFRC), said that people are living in a world filled with ongoing humanitarian challenges, including wars and natural disasters.

Humanitarian crises have had a disproportionate impact on young people, whilst causing challenges of disruption to education, unemployment, as well as exposure to or risk of being affected by violence (sexual violence, gender-based violence) and health risks, she said. She went on to stress the need to change the way to think, work, and become more connected to maintain sustainability and suitability for the current and next generations.

At the forum, delegates exchanged views on skills and solutions to participate in intergenerational dialogue, how to build a foundation for participation in the Youth Engagement Strategy (YES) 2.0, and ways in which to build up knowledge about innovation and digitalisation, as well as disaster preparedness.