Forum looks into job opportunities for female workers on digital platforms
Thursday, 08:59, 22/07/2021
The eighth Vietnam-Republic of Korea Women's Forum was held in Hanoi on July 21, exploring the impact of digital technology on women's participation in economic activities and finding solutions to existing problems.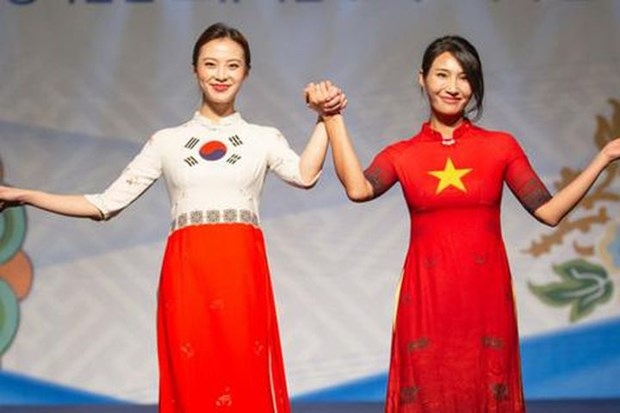 Co-organised by the Vietnam Women's Union (VWU) and the Korean Women's Development Institute (KWDI), the forum aimed to share and learn about opportunities and challenges, experiences, and possibilities for domestic and foreign cooperation to support women's international integration, helping them avoid being left behind in the transition process. It also contributes to enhancing understanding and cooperation between women in the two countries. 

Addressing the forum, VWU Vice President Tran Thi Huong said the forum's theme – Women in the digitalisation world - is related to a very hot issue, reflecting the problems that women are facing. 

The information from the forum would serve as valuable suggestion for the union when deciding priorities for a new tenure at the 13th National Women's Congress slated for March 2022.
"The Vietnam Women's Union and the KWDI have had many cooperation activities, actively contributing to the strategic cooperative partnership between the two countries," she said.

According to Huong, the goal of the union is to continue to provide women with training on digital skills and guide them in applying digital technology in production and business. Women will be encouraged to increase the use of online payment, use the internet safely in commercial transactions, and utilise the internet to look up information and improve their knowledge.

Moon Yu Kyung, Director of the KWDI, said the RoK is actively approaching digital transformation in employment. The number of female employees working on digital platforms is increasing, as more and more Korean women want to balance work and family.

However, she said, working on a digital platform also created problems for them such as high costs or unclear definition between self-employed people and wage earners.

Advanced digital technology is rapidly entering the labour market, creating new jobs and improving working conditions for women. However, digital transformation also raises concerns about job polarisation and the "blind spot" of professional development, she said.

Participants at the forum said to work effectively on digital platforms, it is a must for managers in each country to have plans to expand the coverage to reduce blind spots in the social protection system and devise solutions to the personality differences of the digital labour platform for women.