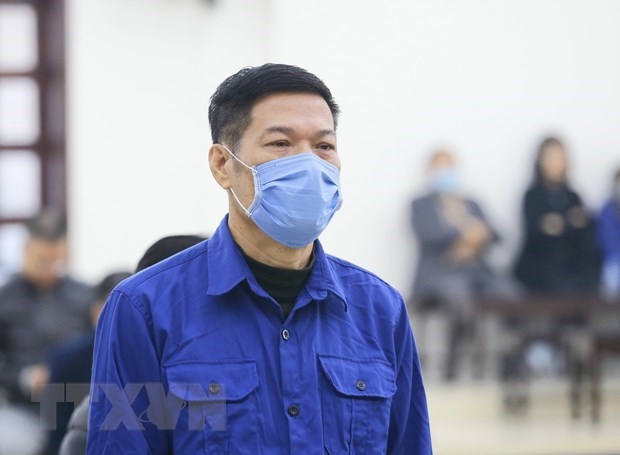 At the first-instance trial, the Hanoi People's Procuracy on December 11 also proposed jail sentences of 7-8 years for Nguyen Vu Ha Thanh, former head of the CDC Hanoi's Financial-Accounting Office; and Dao The Vinh, Director of Vietnam Scientific and Material Science Company Limited (MST).

A prison term of 6-7 years was sought for Nguyen Tran Duy, former General Director of Nhan Thanh Asset Valuation and Auctioning JSC; and Nguyen Ngoc Nhat, an employee of Vitech Development Co.,Ltd.

Other defendants, including Nguyen Thi Kim Dung, former head of the CDC Hanoi's Organisation Office; Nguyen Ngoc Quynh, former head of the CDC Hanoi's Professional Plan Office; and Nguyen Thanh Tuyen, an employee of Phuong Dong Medical Equipment Co.,Ltd were proposed for 5-6 years in prison.

Meanwhile, Le Xuan Tuan, an official of CDC Hanoi; and Hoang Kim Thu, former Chief Accountant of CDC Hanoi may face 2-3 years in jail.

According to the indictment by the Supreme People's Procuracy, taking advantage of the COVID-19 situation, from early February 2020, CDC former director Nguyen Nhat Cam colluded with Nhat, Tuyen and Vinh to raise the prices of medical machineries and equipment in a bidding package from CDC Hanoi before carrying out normal procedures.

He then directed his employees to legalise all normal procedures, enabling MST to win the bid with a price they had agreed upon, resulting in an economic loss of over VND5.4 billion (US$233,200).
Procurators said Cam was the mastermind.

The defendants earlier confessed to police that they jacked up the price of the Reverse Transcription Polymerase Chain Reaction (RT-PCR) machines used in testing the new coronavirus by a factor of three.