Deputy PM extends Christmas greetings to Catholics
Sunday, 18:55, 20/12/2020
A high-ranking delegation led by Permanent Deputy Prime Minister Truong Hoa Binh extended Christmas greetings to the Hanoi Archdiocese and the Committee for Solidarity of Vietnamese Catholics (CSVC) on December 20.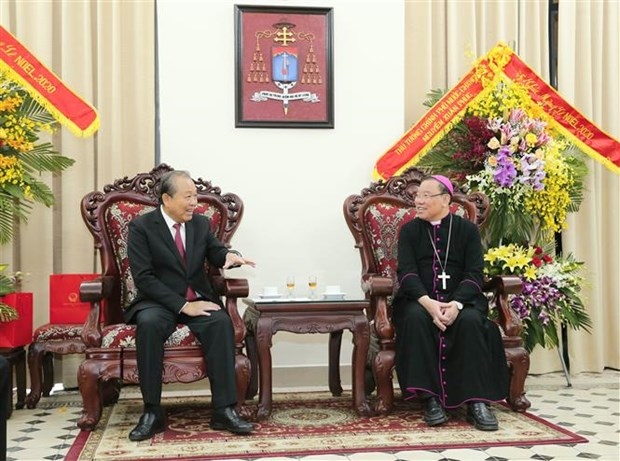 The Deputy PM wished local Catholic dignitaries and followers a merry Christmas and a happy new year in 2021 while staying on guard against COVID-19.

He briefed them on the country's socio-economic development and efforts to contain the spread of COVID-19 this year, and underlined that the relations between the State and the Catholic Church in Vietnam have been thriving, and so have the Vietnam-Vatican ties with mutual respect and understanding.

For his part, Joseph Vu Van Thien, Archbishop of the Hanoi Archdiocese, voiced his delight at the country's accomplishments in socio-economy, security and national defence in the past year.

The Hanoi Archdiocese encompasses Hanoi, and Hoa Binh, Ha Nam and Nam Dinh provinces with about 35,000 followers.  

During the visit to the CSVC, Binh spoke highly of the committee for joining hands with the Government in aiding people in the central region who were victimised by the recent storms and floods. 
He voiced his hope that the CSVC will continue upholding the spirit of solidarity and join the nation in battling COVID-19.

Chairman of the committee Tran Xuan Manh thanked the Party and the State for supporting the CSVC in performing its tasks, and pledged to call on followers to observe health regulations.