COVID-19: Vietnam reports 13,137 more infections, 9,211 recoveries
Sunday, 19:00, 05/09/2021
VOV.VN - Vietnam has recorded an additional 13,137 coronavirus cases during the past 24 hours, with two thirds registered in Ho Chi Minh City and Binh Duong, the country's two largest COVID-19 hotspots.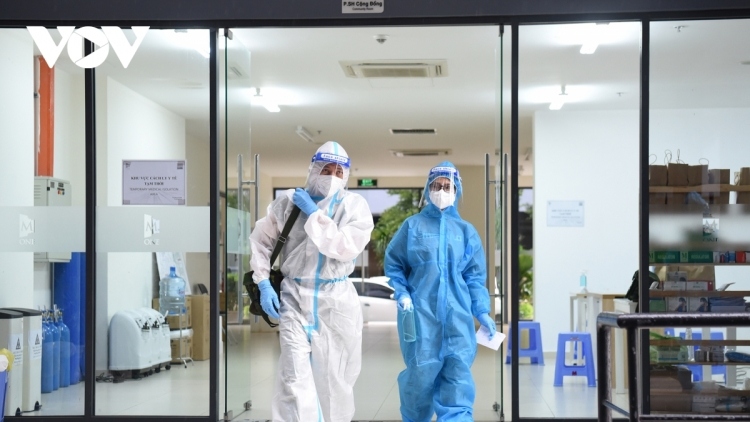 Of the total, 7,521 cases were detected in the community through test screening or random testing, 36 tested positive upon returning to Vietnam from overseas, and the rest were documented in quarantine or lockdown areas.
Ho Chi Minh City, the epicenter of the country's fresh coronavirus outbreak, led all cities and provinces, reporting 6,226 new cases.
It was followed by Binh Duong with 3,540 new cases, Dong Nai 1,243, Long An 756, Kien Giang 345, Tien Giang 133, and Can Tho 100, all in the south.
Khanh Hoa and Da Nang topped central localities, logging 74 and 64 cases, respectively.
Except for Hanoi capital that recorded 53 new cases, other northern localities are fairly well controlling the outbreak, with just several cases sporadically diagnosed in Bac Ninh, Bac Giang and Quang Ninh.
Data from the Ministry of Health show that the past 24 hours saw daily caseload rose by 3,580 compared to the previous day, with most of them reported in Ho Chi Minh City, Binh Duong, Dong Nai, Long An and Kien Giang.
As of 06.00pm on September 5, Vietnam has recorded 524,307 coronavirus cases since the start of the outbreak in January 2020, ranking 51 out of 222 counties and territories worldwide.
It has registered 520,013 locally acquired infections following the resurgence of the virus more than four months ago. Of the total, 288,953 patients have been discharged from hospital after making a full recovery from the disease, including 9,211 recoveries announced on September 5.
The MoH has also confirmed 281 COVID-19 deaths during the past 24 hours, including 222 and 38 cases in HCM City and Binh Duong respectively.
The September 5 figure has raised the cumulative number of COVID-19 fatalities in Vietnam to 13,074, making up 2.5% of the total number of infections and 0.4% higher than the average death rate globally.