COVID-19: More than 94,000 new cases recorded in single day
Monday, 18:35, 28/02/2022
VOV.VN - Vietnam's daily count of coronavirus surpassed the 90,000 case mark on February 28, hitting an all-time high of 94,385, the Ministry of Health reported in its coronavirus update at 06.00pm.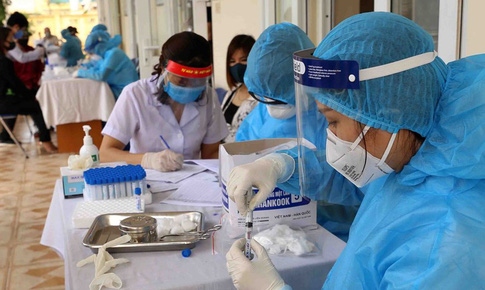 The newly detected infections, recorded in 61 cities and provinces nationwide, marked an increase of 7,410 cases compared to the previous day.
Of the total, 70% were diagnosed in the community, nine tested positive upon returning from overseas, and the remainder were detected in the lockdown or quarantine areas.
Like previous days, February 22 saw most of the cases (more than 71,000) reported in the north. Official data from the Ministry of Health show Hanoi capital topped localities in infection number, registering 12,850 cases. The city has suspended face-to-face learning for students of various grades amid COVID-19 fears in the community.
Hanoi was followed by Quang Ninh that reported 9,105 new cases, Bac Ninh 3,572, Hung Yen 3,309, and Lao Cai 3,233. Quang Ninh also registered to add 28,095 cases recorded in the past few days to the national database.
The past 24 hours also saw Ho Chi Minh City that used to be the largest coronavirus hotspot last summer confirm a surge in daily caseload at 1,790.  
Elsewhere, 3,935 more cases were announced in Nghe An alone, the highest figure in the central locality.  
The same day, the Ministry of Health also announced an additional 27,039 recoveries and 108 more coronavirus related deaths in localities across the country.
As of 06pm on February 28, Vietnam has detected 3,443,485 COVID-19 cases since the start of the outbreak, ranking 30th out of 225 countries and territories worldwide.
Of the infected patients, 2,438,951 have been discharged from hospital after making a full recovery from the disease, and 40,252 patients have died of the virus.
Approximately193.6 million vaccine doses have been administered nationwide, with over 75 million people getting their second shot and more than 38 million people receiving their additional shot/booster jab.