COVID-19: Daily infections fall by 12,500 to 150,000 in Vietnam
Saturday, 18:28, 19/03/2022
VOV.VN - Daily coronavirus infections fell to 150,618 in Vietnam on March 19, down by 12,559 cases compared to the previous day, the Ministry of Health (MoH) said in its coronavirus update at 06pm.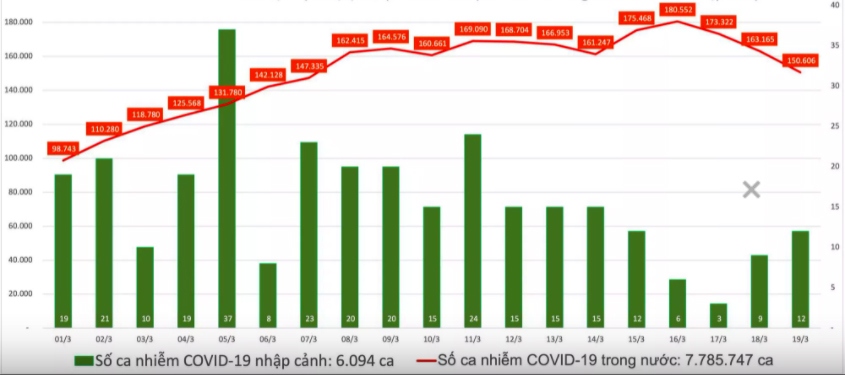 Of the total, 150,606 cases were locally acquired, with 99,644 cases documented in the community. Twelve cases tested positive upon returning from overseas, and the remainder were diagnosed in quarantine and lockdown areas.
Most of the cases were recorded in northern Vietnam. Hanoi capital topped localities nationwide registering 21,071 new cases, down 2,507 cases from a day ago.
The capital was followed by Nghe An, Phu Tho, Hai Duong, Lang Son and Tuyen Quang that reported 11,099, 6,681, 4,938, 4,713, and 4,598 fresh cases respectively.
It's noteworthy that Hanoi capital and Bac Ninh correspondingly registered to add 190,000 and 35,250 cases to the national COVID-19 database.
Official data from the MoH show the daily average number of new infections recorded in Vietnam in the past seven days was 168,014.
The past 24 hours saw 129,434 patients recovering from the disease and 77 patients die of the virus and other underlying illnesses.
As of 06pm on March 19, Vietnam has detected 7,791,841 COVID-19 cases since the start of the outbreak, ranking 14th out of 225 countries and territories worldwide.
Of the infected patients, 3,991,393 have been discharged from hospital after making a full recovery from the disease, and 41,817 patients have died of the virus.
More than 201 million vaccine doses have been administered nationwide.