COVID-19: Cumulative tally hits close to 8 million in Vietnam
Sunday, 18:46, 20/03/2022
VOV.VN - The Ministry of Health of Vietnam on March 20 announced an additional 141,151 new coronavirus cases, raising its cumulative tally to nearly 8 million.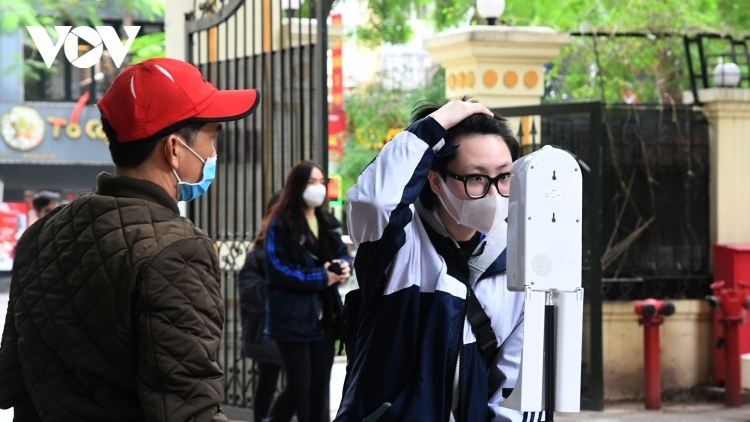 March 20 is the fourth consecutive day that saw daily infections fall in localities across the country.
Official data from the Ministry of Health show daily infections declined from 180,558 on March 16 to 178,112 on March 17, 163,174 on March 18, 150,618 on March 19, and 141,151 on March 20.
Of the March 20 figure, 141,149 cases were locally acquired, with 93,894 cases recorded in the community. Two cases tested positive upon returning from overseas, and the remainder were diagnosed in quarantine and lockdown areas.
Most of the cases were recorded in northern Vietnam. Hanoi capital topped localities nationwide registering 19,065 new cases, down 2,006 cases from a day ago.
It's noteworthy that Vinh Phuc province registered to add more than 25,000 cases to the national COVID-19 database.
The Ministry of Health also reported that the past 24 hours saw more than 111,000 patients recovering from the disease and 63 patients die of the virus and other underlying illnesses.
As of 06pm on March 20, Vietnam has detected 7,958,048 COVID-19 cases since the start of the outbreak, ranking 14th out of 225 countries and territories worldwide.
Of the infected patients, 4,103,028 have been discharged from hospital after making a full recovery from the disease, and 41,880 patients have died of the virus.
More than 201 million vaccine doses have been administered nationwide.