Binh Thuan province promotes awareness to fight illegal fishing
Tuesday, 18:49, 30/05/2023
The south central province of Binh Thuan is raising public awareness in the fight against illegal, unreported, and unregulated (IUU) fishing and the implementation of the 2017 Fisheries Law.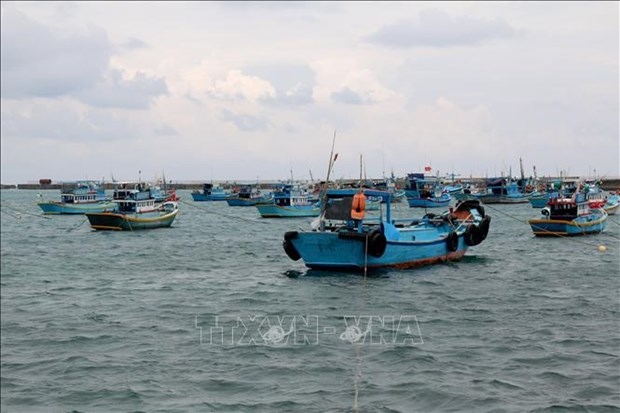 The moves come as part of the country's180-day action plan for IUU fishing prevention and control.
Since the beginning of this year, the provincial Fisheries Sub-Department has coordinated with localities to organise six classes for 450 fishermen, especially those working on offshore fishing vessels and groups with a high risk of committing to IUU fishing.

The provincial Border Guard Command also organised 111 sessions for 16,190 fishermen about the fight against IUU fishing and illegal fishing in foreign waters.
Local vessel owners and captains of offshore fishing ships signed commitments not to violate foreign waters.

Local fishing port management boards used loudspeaker systems for communication activities and gave fishing diaries, and leaflets to ship owners, captains, and fishermen.

According to the Binh Thuan provincial steering committee against IUU fishing, thanks to drastic solutions, the number of local fishing vessels and fishermen that violate foreign waters has gradually decreased over the years.
From July 2019 to June 2021, no fishing boats or fishermen violated foreign waters.
However, from mid-2021 until now, there have been eight cases of violations in which nine vessels and 69 fishermen were arrested by foreign countries.
In the first five months of 2023, there was one case in which one vessel and seven Vietnamese fishermen were arrested in Malaysian waters. The violating fishing boats often operate, stay, and depart in other provinces and rarely return to Binh Thuan province, which causes difficulties in overseeing the vessels.

By the end of May 2023, the whole province had 1,941 out of 1,961 fishing vessels with a length of 15 meters and above installed with vessel monitoring system (VMS), reaching 99%. The vessels without VMS include 14 damaged ones that are no longer able to operate or those involved in civil disputes and the other six vessels whose owners face financial difficulties.

Vessels without VMS are now not allowed to operate at sea.
In an effort to curb IUU fishing effectively, the provincial People's Committee has asked relevant departments, agencies, and units to take drastic measures, particularly in managing vessels.