Better implementation required for policies for women's development
Friday, 19:48, 15/10/2021
Deputy Prime Minister Pham Binh Minh on October 15 required ministries, agencies and localities to better implement policies promoting the development of women in general and female entrepreneurs in particular.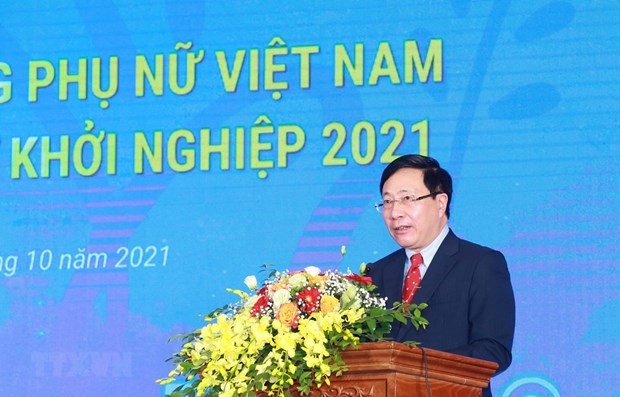 The Deputy PM made the request while speaking at a ceremony marking the 91st anniversary of the Vietnam Women's Union (VWU). Winners of the Vietnam Women's Awards and Women Startups Awards were also honoured on this occasion.

The awardees represent many Vietnamese women who are silently contributing to national development and the COVID-19 fight, Minh said.

He asked the VWU to cooperate with ministries, agencies and businesses to carry out the project on supporting women-led startups more effectively.
VWU President Ha Thi Nga highlighted the exemplary individual and units honoured by the Vietnam Women's Awards this year.

Initiated in 2002, the Vietnam Women's Awards is one of the biggest prizes designed for women, helping to encourage women to carry forward their talents and knowledge in the cause of national industrialisation and modernisation.

A total of 93 collectives and 164 individuals have won the awards over the past 19 years thanks to their outstanding performance in education, arts, sports, business, agricultural production, management, research, health care, humanitarian and charitable activities, and national defence and security.

This year's awards went to six collectives and 10 individuals.

Meanwhile, the 2021 Women Startups Awards attracted women of different ages, with the youngest 17 and the oldest 71. Twenty four startup projects honoured at the ceremony were selected from thousands of entries.