Better environment protection in Ha Long Bay urged for sustainable tourism
Saturday, 10:48, 27/11/2021
Experts voiced concerns over human impacts on the environment in UNESCO-recognised World Natural Heritage Ha Long Bay in Quang Ninh during a conference held in the northern province on November 26.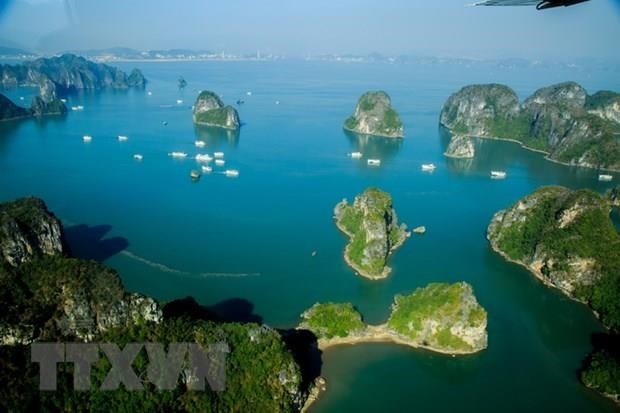 Held by the Ha Long Bay management authority both virtually and in-person, the conference aimed to evaluate environment carrying capacity of Ha Long Bay as part of the efforts to promote the sustainable development of tourism in the area.

The event also provided policymakers an overview of the bay's current environmental status and thereby, put forward recommendations for the effective preservation and management of its heritage values and how to make tourism sustainable.

It gathered officials from local departments, agencies and administrations and experts from Vietnam National University (VNU)'s Central Institute for Natural Resources and Environmental Studies, National Economics University and UNESCO Office in Hanoi.

Human activities, such as industrial production, mining, agriculture, fishing and tourism, have been hampering efforts to protect Ha Long Bay, by disposing an increasing amount of solid waste and wastewater, putting enormous pressure on the bay's environment, landscapes and heritage values, said Pham Dinh Huynh, deputy director of the Ha Long Bay management authority.

Human activities are also putting its natural resources at risk of depletion, negatively affecting tourists' experience and satisfaction in the province, he added.

A representative from the Central Institute of Natural Resources and Environmental Studies urged Quang Ninh to complete its policies on protecting the bay's environment and build capacity for officials in charge of managing the bay, and to soon develop and implement a Ha Long Bay integrated management programme for the 2021 – 2030 period, with a vision towards 2045.

Meanwhile, the representative from the Quang Ninh Department of Tourism suggested the adoption of exclusive incentives to attract investment into developing new tourism products and infrastructure in the bay, probably under the Public-Private Partnership (PPP), as well as the development of eco-tours with active engagement of local communities.