Bangladesh-Vietnam Friendship Society to boost citizen diplomacy
Saturday, 17:39, 18/03/2023
VOV.VN - The Bangladesh-Vietnam Friendship Society (BVFS) made its debut on March 13, as part of the activities marking the 50th anniversary of the Vietnam-Bangladesh diplomatic ties.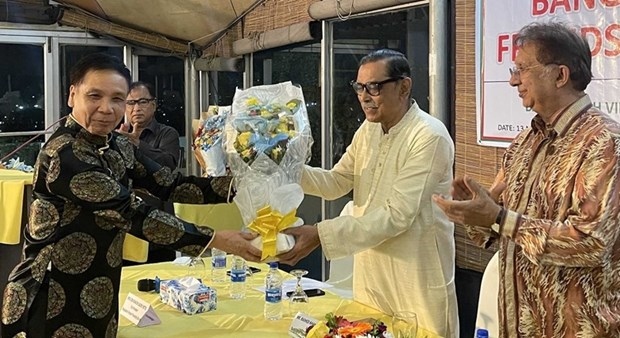 The society draw the participation of former ambassadors of Bangladesh to Vietnam, members of the Bangladesh-Vietnam Chamber of Commerce and Industry, war veterans, intellectuals, journalists, writers, and artists.
Shamsher M. Chowdhury, BB, former Foreign Minister and former Ambassador of Bangladesh to Vietnam, serves as BVFS President.
In his speech, the official emphasized that the establishment of the association demonstrates the close ties between the two countries, as well as Bangladesh's efforts in reinforcing their solidarity.
With his love for Vietnam and his desire to keep contributing to the friendship and prosperity of Bangladesh and Vietnam, especially to intensify people-to-people exchanges, cultural exchanges, Shamsher M. Chowdhury and his Bangladeshi friends decided to set up the Bangladesh - Vietnam Friendship Society.
Secretary of Bangladesh's Ministry of Foreign Affairs, Ambassador Shabbir Ahmad Chowdhury reviewed major milestones in the Vietnam-Bangladesh relations over the past five decades.
He said Vietnam is one of the most dynamic countries in Asia and that he hopes with the engagement of the BVFA, the relations between the two countries and their peoples will grow and flourish in a more intensive and practical manner.
Vietnamese Ambassador to Bangladesh Pham Viet Chien highlighted the significance of the formation of the BVFA for the Vietnam-Bangladesh relations as it celebrates the 50th anniversary of bilateral diplomatic ties.
The diplomat noted his hope that the association will launched a broad array of activities bringing peoples of the two countries together, and help promote Vietnam's land, people, culture, and achievements among Bangladeshi people.
On this occasion, President of the Vietnam Union of Friendship Organisations Ambassador Nguyen Phuong Nga sent a congratulatory letter to the BVFA.
In the letter, Nga said its establishment has contributed to cooperation and friendship as well as citizen diplomacy between the two nations, and expressed her hope for fruitful cooperation with the association in people-to-people diplomacy.