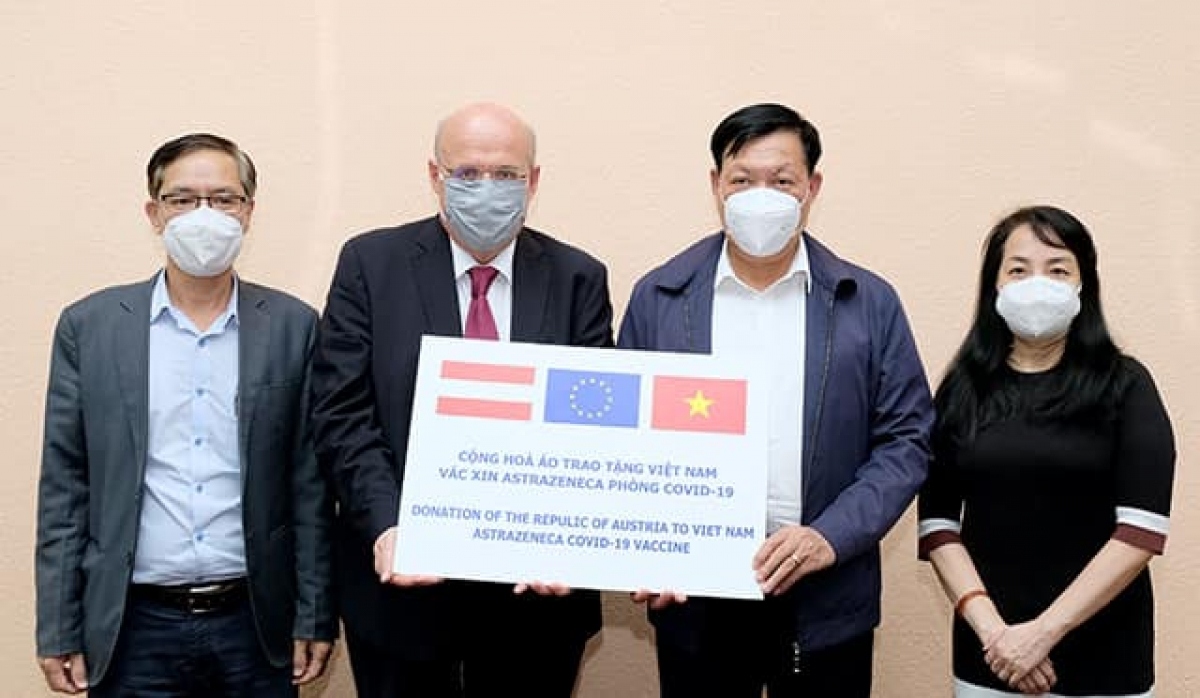 The handover-ceremony saw the attendance of Austrian Ambassador to Vietnam Hans-Peter Glanzer and Deputy Minister of Health Do Xuan Tuyen.
During the event, Ambassador Glanzer highlighted the Vietnamese side's great strides in terms of its ongoing COVID-19 vaccination drive, while also expressing his pleasure at Austria's significant contribution to the battle through the donation.
Deputy Minister Tuyen emphasised that the COVID-19 pandemic has had a serious impact on the social life of several countries, whilst also severely disrupting economic activities, adding that several nations have taken strict blockade measures aimed at preventing the spread of the SARS-CoV-2 virus and its variants.
The complicated nature of developments relating to the COVID-19 pandemic therefore requires the efforts of all countries to unite to fight the disease, he noted.
In response, Deputy Minister Tuyen highlighted the support of the Austrian Government, organisations, and businesses through projects aimed at providing medical equipment in order to improve the quality of supplying medical to the nation.
The Deputy Minister underscored the significance of the Austrian Government's support, which has become a great source of encouragement for both the Vietnamese Government and people to overcome this challenging period.
The assistance of great significance as both nations will celebrate the 50th anniversary of diplomatic ties as a way of reinforcing the ties of friendship and co-operation relations between the two countries, he stressed.
Deputy Minister Tuyen added that Vietnam has so far received over 135 million doses of COVID-19 vaccines, while over 100 million doses have now been administered nationwide.
At present, the nation is in the process of accelerating the progress of vaccine coverage, including immunisations for children aged between 12 and 17.
Simultaneously, the country has also switched to a new COVID-19 strategy by trying to adapt to the pandemic in a flexible and effective manner.
He also pledged to distribute the vaccines to relevant units and localities based on the current pandemic situation to meet the urgent needs of the nation as a whole.