ASEAN Book Publishers Association's members boost cooperation
Friday, 19:21, 15/09/2023
The annual meeting of the Executive Committee of the ASEAN Book Publishers Association (ABPA) kicked off in Ho Chi Minh City on September 15.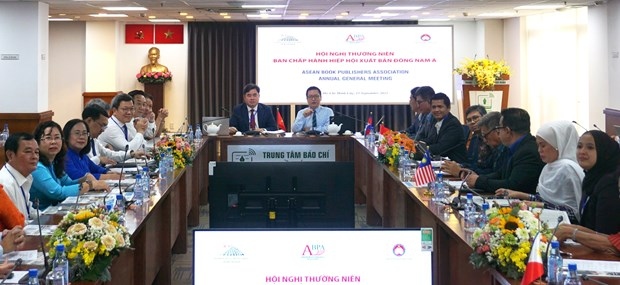 The event was a forum for ABPA members to exchange experiences and propose solutions to strengthen cooperation in the publishing industry in the region, especially in the context that digital transformation and international integration are becoming more extensive.

President of the Vietnam Publishers Association (VPA) Pham Minh Tuan, who is holding the rotating presidency of the ABPA for the 2022-2023 term, said that the VPA has met the needs of exchange and cooperation among member countries, becoming a channel for exchanging information, sharing new policies of each country's publishing industry as well as sharing experiences and ways to promote the development of reading culture.
He went on to say that ABPA members have the opportunity to learn from each other. During its presidency, the VPA organised many activities, aiming at common goals, especially the goal of maintaining and pushing up peace and security as well as enhancing regional resilience by promoting political, security, economic and socio-cultural cooperation.
Participants at the meeting held that given the current context, the publishing industry faces many difficulties due to the competition between books and reading culture with other audio-visual forms and social networks, and copyright infringement. Along with solutions to promote reading culture, member countries are taking drastic measures to prevent book copyright violations.
At the event, ABPA members agreed with proposals put forth by the VPA, notably the "One ASEAN" initiative which promotes exchanges between publishing units of the member countries, thereby fostering experience sharing and copyright exchange in the region and realising the goal of diversifying ASEAN unity.
They consented that the Malaysian Publishing Association will take on the role of ABPA's rotating presidency for the 2024 - 2025 term.
Some activities are organised within the framework of the event, including an international book fair on HCM City's Book Street which features about 100 book titles about President Ho Chi Minh and other Party and State leaders.

ABPA delegates also participate in sideline activities to better understand Vietnamese culture and publishing, such as visiting relics, bookstores and HCM's Book Street.
Founded in 2005, the ABPA aims to provide a friendly community where ASEAN-based publishers and industry partners can share knowledge and experience.