Ambassadors of friendship
Wednesday, 19:30, 25/01/2023
VOV.VN - The overseas Vietnamese community has always been an important factor in national integration over the years, no matter what country they live and study in, each Vietnamese person is a messenger of friendship, promoting the Vietnamese culture and values abroad, and Vietnamese people in the Republic of Korea are an example.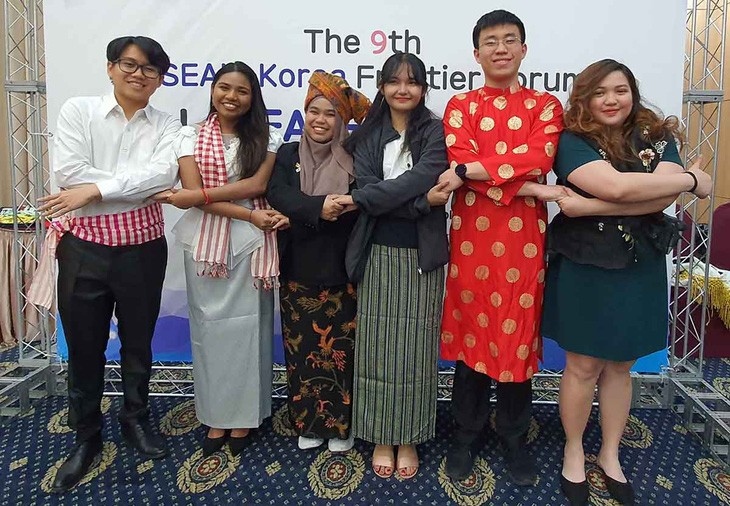 Vietnam's achievements today are partly attributed to Vietnamese compatriots abroad. Overseas Vietnamese have supported the national reform and shouldered national responsibilities.
Messengers of friendship
Nguyen Ngoc Quang is in the final year of a doctoral degree at Hanyang University in Seoul. He won the 5-Good Student Award given by the Central Committee of the Vietnamese Students' Association for students meeting 5 criteria – ethics,  study, voluntary work, integration, and physical health.
Last year the group of international students led by Quang won 1st prize in the Asia-Pacific Initiative Contest on environmental issues. Their project studied plastic waste treatment in the shortest time.
"I'm very proud of my team whose members come from many countries. Some of them are Korean, Indonesian, and Vietnamese who won other international contests. This is a startup initiative contest. I gave ideas and organized my team to build a treatment model and design slides," Quang said.
Besides the project, Quang is an honorary reporter of the Republic of Korea-ASEAN Center in the Republic of Korea (RoK). Last year he wrote 30 blog stories and reports on RoK-ASEAN relations.    
"These activities have benefited the relations between ASEAN and the RoK as well as between Vietnam and the RoK. My purpose is to promote Vietnam, its people and culture, to many countries," Quang said.
Nguyen Thi Biet has been living in the RoK for 14 years. She has opened 5 free Vietnamese classes for multi-culture families since 2016.
"I'm working in bilingual education development. We rekindle parents and their children to remember their roots and help them learn the Vietnamese language, promote Vietnamese language and culture in their second homeland," said Biet.
Vietnamese people in the RoK are a bridge for economic cooperation. Vo Ngoc Tuyet, who has been living in the RoK for 18 years, is a dynamic businesswoman.
"The overseas Vietnamese community is growing, so the demand for home-cooked Vietnamese rice is also increasing. Koreans also know about Vietnamese rice. Vietnamese agricultural products sold abroad will benefit the Vietnamese farmers. It's what I want to do for my country. Currently I only supply rice to a few factories and retailers. I am trying to expand my business because when I see products Made in Vietnam, I'm very proud," said Tuyet.
Generating a soft power for the nation
People like Ngoc Quang, Nguyen Thi Biet, Ngoc Tuyet, and millions of Vietnamese people living in 130 countries and territories around the world are the guardians and messengers of Vietnamese culture, land, and people.
They have connected members of families, communities, and the homeland. They have conveyed a message to international friends and generated a soft power for Vietnam.
Minister of Foreign Affairs Bui Thanh Son said, "The important results that Vietnam has achieved come from valuable contributions of our compatriots abroad. Overseas Vietnamese increasingly support the national renewal process and are willing to shoulder the country's responsibilities and successfully carry out the goals set by the 13th National Party Congress."
Vietnam's successes today are the pride of all Vietnamese people living inside and outside the country. The 13th National Party Congress has set a goal of building a developed and high-income nation by 2045. In the process, overseas Vietnamese will continue to work together for a prosperous and powerful Vietnam.