Vietnam's response to Philippine accusation of China obstructing supply ships in East Sea
Thursday, 17:51, 18/11/2021
VOV.VN - The nation has asked all concerned parties to comply with international law and the 1982 UN Convention on the Law of the Sea (UNCLOS) in carrying out activities in the East Sea, whilst avoid taking actions which may complicate the situation.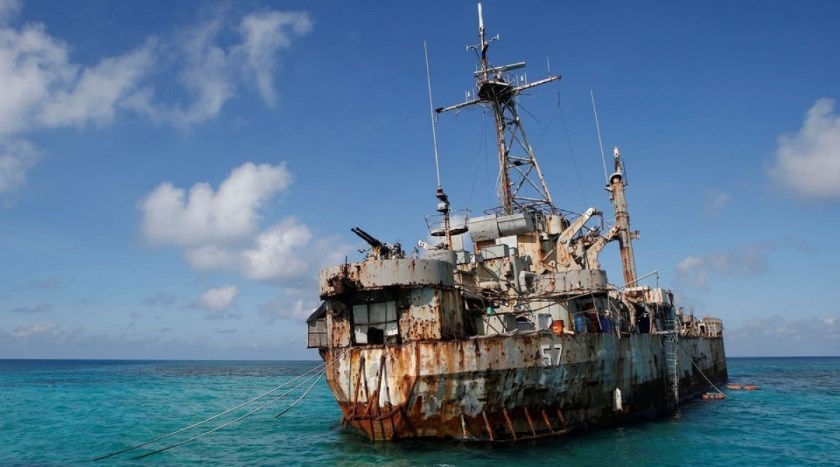 Foreign Ministry spokesperson Le Thi Thu Hang made the statement during the Foreign Ministry's press briefing on November 18 in reply to a reporter's question about the Vietnamese reaction to information regarding the Philippines' accusation of China obstructing its supply ships in the East Sea.
The Vietnamese stance on sovereignty over the Hoang Sa (Paracel) and Truong Sa (Spratly) archipelagoes, as well as the East Sea issue in general, remains clear and consistent. The country asks concerned parties to fully comply with international law, the 1982 UNCLOS regarding activities in the East Sea, and not take steps to worsen the situation, thereby contributing to maintaining peace, security, stability, and legal order at sea in the region.
This comes after China Coast Guard vessels "blocked and water cannoned" Philippine supply boats on a resupply mission to BRP Sierra Madre in Ayungin (Second Thomas Shoal) in the West Philippine Sea, Foreign Affairs Secretary Teodoro Locsin Jr. said on November 18, according to the Inquirer newswire.

The incident took place on November 16, according to reports made by Palawan-based Western Command.
"The acts of the Chinese Coast Guard vessels are illegal. China has no law enforcement rights in and around these areas. They must take heed and back off," Locsin Jr. said.
Also at the press briefing, the spokesperson touched upon Vietnam's resolute objection to Taiwan's military exercises in the territorial waters around Ba Binh island belonging to Vietnam's Truong Sa (Spratly) archipelago. The nation demanded Taiwan to end those actions and not to repeat them in the future, she said.

She reiterated that Vietnam has sufficient legal grounds and historical evidence to affirm its sovereignty over Hoang Sa (Paracel) and Truong Sa archipelagoes in accordance with international law.

Hang stated that any patrol or military exercise by Taiwan in the territorial waters around Ba Binh island of Truong Sa archipelago seriously violates Vietnam's sovereignty over this archipelago, and threatens peace, stability, safety and security of navigation. This causes tensions and and complicates the East Sea situation, she added.