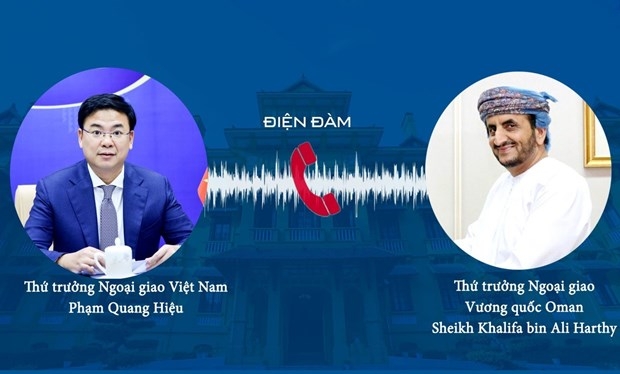 Hieu expressed his delight at the positive development in the friendly cooperation relationship between the two countries over the past time, especially in the field of economy. 

Despite facing many difficulties caused by the COVID-19 pandemic, bilateral trade turnover in the past two years has reached nearly 200 million USD per year, an increase of nearly 50 percent compared to that of 2018, he said.

Vietnam-Oman Investment JSC has operated actively and is one of the bright spots in the relationship between the two countries, Hieu noted.

He asked the Omani side to continue supporting Vietnam in overcoming consequences of natural disasters, accessing vaccines and medical equipment for COVID-19 prevention and control.

While appreciating Vietnam's achievements in politics, external relations and socio-economic development, Undersecretary for Diplomatic Affairs Al Harthy affirmed that Oman always attaches importance to promoting multifaceted cooperation with the Southeast Asian country.

The two deputy ministers held that the potential for bilateral cooperation between Vietnam and Oman remains huge. 

Given complicated developments of the COVID-19 pandemic, the two sides exchanged and agreed on measures to strengthen and improve the efficiency of collaboration between the two countries in the coming time, including enhancing online communication between leaders of ministries and sectors, closely coordinating at international forums and organisations and effectively maintaining existing cooperation mechanisms such as the Intergovernmental Committee, the political consultation between the two foreign ministries. 

They also pledged to step up cooperation in COVID-19 prevention and control and emphasised the need to coordinate in organising online investment and trade promotion activities, providing information, connecting businesses, and enhancing partnerships in agriculture and seaports.

The negotiations and signing of cooperation agreements, even via videoconference, would be sped up to accomplish the legal framework for bilateral cooperation, they said.

The two sides also exchanged views on a number of regional and international issues of common interest.