Vietnam – UK's leading partner in Asia-Pacific: British Minister of State for Asia
Thursday, 23:23, 22/07/2021
Vietnam is a leading partner of the UK in the region, British Minister of State for Asia Nigel Adams told Vietnamese Deputy Minister of Foreign Affairs To Anh Dung during their talks in Hanoi on July 22.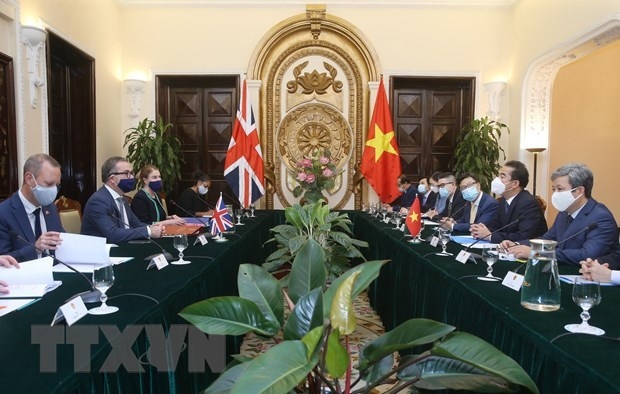 Adams said the UK wants to strengthen the comprehensive cooperation with Vietnam in politics, economy, and national defence and security, in the context of the UK adjusting its policy towards the Indo-Pacific.

Dung spoke highly of the development of the Vietnam-UK strategic partnership, and suggested the UK continue to help Vietnam access vaccines supplies and provide the country with medical equipment like ventilators and quick test kits so that Vietnam can quickly stamp out the resurgence of COVID-19.

The two sides agreed to step up meetings between their high-ranking leaders, both online and in-person, and soon resume regular delegation exchanges and major cooperation mechanisms such as the strategic defence and security dialogue at the deputy foreign ministerial level.
Regarding economic cooperation, they emphasised the need to closely coordinate to popularise and optimise opportunities generated by the UK-Vietnam Free Trade Agreement (UKVFTA) to create breakthroughs in trade and investment ties in potential fields like digital economy, smart urban areas, financial services and renewable energy.

They also consented to continue their close coordination at multilateral forums, especially the United Nations Security Council (UNSC) during Vietnam's tenure as a non-permanent member (2020-2021), and within the framework of the Asia-Europe Meeting (ASEM) forum.

Adams said he hopes that Vietnam will further support the UK in its effort to become a dialogue partner of ASEAN, as well as in negotiations to join the Comprehensive and Progressive Agreement for Trans-Pacific Partnership (CPTPP).

The officials exchanged views on regional and international issues of shared concern, and stressed the significance of ensuring the freedom of navigation and aviation, security and peace in the East Sea, and upholding international law, with the 1982 United Nations Convention on the Law of the Sea (1982 UNCLOS) considered a "charter on sea and ocean," and a legal framework for all maritime activities.

Adams is accompanying UK Secretary of State for Defence Robert Ben Lobban Wallace in an official visit to Vietnam.

As part of the visit, Wallace on July 22 visited the Diplomatic Academy of Vietnam, where he held a dialogue with Vietnamese scholars and students of the academy.
He said through the strategy tilting towards the Asia-Pacific released last March, the UK has affirmed its long-term commitment to peace and stability in the region.

Challenges and security at sea in the region have remained a common concern of the international community, Wallace said, explaining that they have affected regional peace and stability, as well as the rule of law.  

Given this, the UK wishes to strengthen cooperation with ASEAN countries in the "ASEAN way" to promote dialogues and common peace and stability, he said, stressing that as a permanent member of the UNSC, the UK has a duty to protect the rules-based international order.

Wallace lauded Vietnam's increasing role not only in the region but also in global issues, as proven in the country's contributions to UN peacekeeping operations.

The UK and Vietnam share many strategic visions and interests, such as the views on free trade and the significance of international law, including the 1982 UNCLOS, he said.

The UK will continue its close coordination with Vietnam to boost cooperation within the Vietnam-UK strategic partnership, he pledged.

Wallace and Adams exchanged views with Vietnamese scholars on the regional situation, as well as the UK's role and contributions to the region and orientations to strengthen the partnership