Vietnam pledges close cooperation with ASEAN, UN in supporting Myanmar
Friday, 11:21, 17/03/2023
VOV.VN -As a member of ASEAN and the UN Human Rights Council for the 2023 to 2025 period, the nation will go ahead with its close ties with the 10-member grouping and the international community in order to help Myanmar overcome difficulties, promote dialogues, enhance understanding, and narrow differences.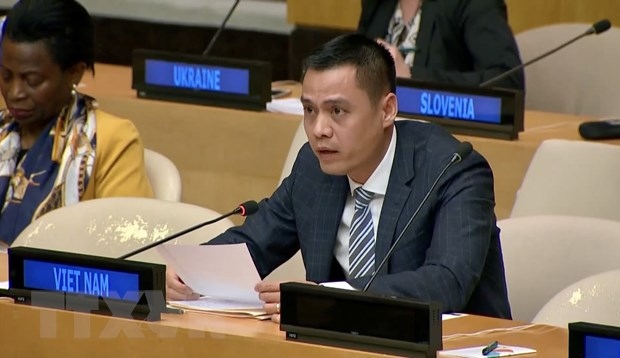 Ambassador Dang Hoang Giang, permanent representative of Vietnam to the UN, made the statement on March 16 in New York at an informal meeting of the 77th UN General Assembly.
The Vietnamese diplomat voiced the country's concerns over the situation in Myanmar which has seen no improvements over the past two years, particularly as its fragile economy and severe humanitarian crisis has greatly impacted women and children.

Given these issues, all relevant sides must exercise maximum restraint, stop violence, as well as kick-start meaningful and inclusive dialogues in order to reach peaceful and sustainable solutions that match Myanmar people's will and interests, Ambassador Giang stated.

The nation therefore calls on all parties to fully and effectively implement the Five-Point Consensus on Myanmar approved by ASEAN leaders, ensure access to humanitarian and medical aid for all, comply with the International Humanitarian Law, and focus on protecting civilians, he added.
Regarding ASEAN's role, he emphasised that Vietnam hails efforts by Indonesia. The ASEAN Chair 2023, and backs the close linkages between the bloc and the UN in terms of accelerating the settlement of the Myanmar issue, including collaboration between their special envoys. This is along with co-operation between the ASEAN Coordinating Centre for Humanitarian Assistance on Disaster Management (AHA Centre) and UN agencies in humanitarian aid.

The nation therefore calls on the international community to assist ASEAN's efforts and promote dialogues and reconciliation on the basis of respect for Myanmar's sovereignty, independence, and territorial integrity, he went on to say.

The country also calls for greater efforts to be made in terms of dealing with the root causes of the refugee situation in Rakkhine state, whilst offering favourable conditions for people to return home safely and voluntarily, as well as reintegrating into the community, Ambassador Giang added.