Vietnam, Japan push ahead with all-around cooperation
Sunday, 16:29, 01/05/2022
VOV.VN - Prime Minister Pham Minh Chinh and his Japanese counterpart Kishida Fumio have consented to step up cooperation across multiple fields such as investment, trade, agriculture, energy, and the environment.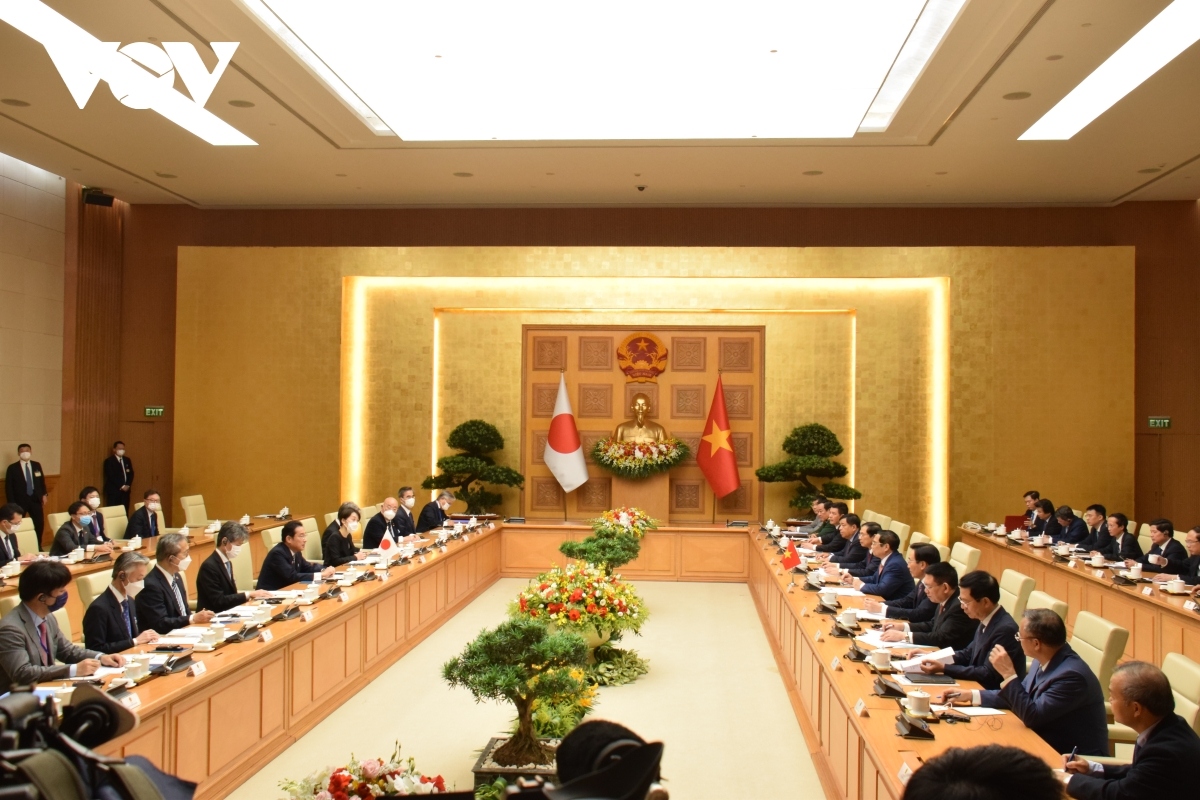 During their talks held following an official welcoming ceremony for Japanese PM Kishida Fumio in Hanoi on May 1, both government leaders had a wide-ranging discussion on bilateral relations alongside international and regional issues of shared concern.
They expressed their delight at the remarkable development of Vietnam-Japan relations and the broad common perception on major directions and measures aimed at further deepening cooperation across a variety of fields, thereby opening a new development stage in the extensive strategic partnership between the two countries.
The pair agreed to continue consolidating political trust by maintaining high-level visits and meetings, and improving the effectiveness of cooperative and dialogue mechanisms.
PM Chinh was appreciative of PM Kishida's early visit to Vietnam which shows the Japanese Government's recognition of importance to the two countries' relations. He congratulated Japan on its tremendous achievements in COVID-19 prevention and control as well as socio-economic recovery and development. Chinh expressed his belief that Japan will continue to successfully implement important strategies and policies towards opening a brighter future for Japanese people.
Vietnam consistently considers Japan a leading important and reliable strategic partner, the Vietnamese Government chief said, while displaying his thanks to the Japanese Government for actively supporting Vietnam in the fight against COVID-19.
In response, PM Kishida reaffirmed the importance of further developing relations with Vietnam and hailed the achievements in socio-economic development, stature and increasingly important role of Vietnam in the region and the wider world.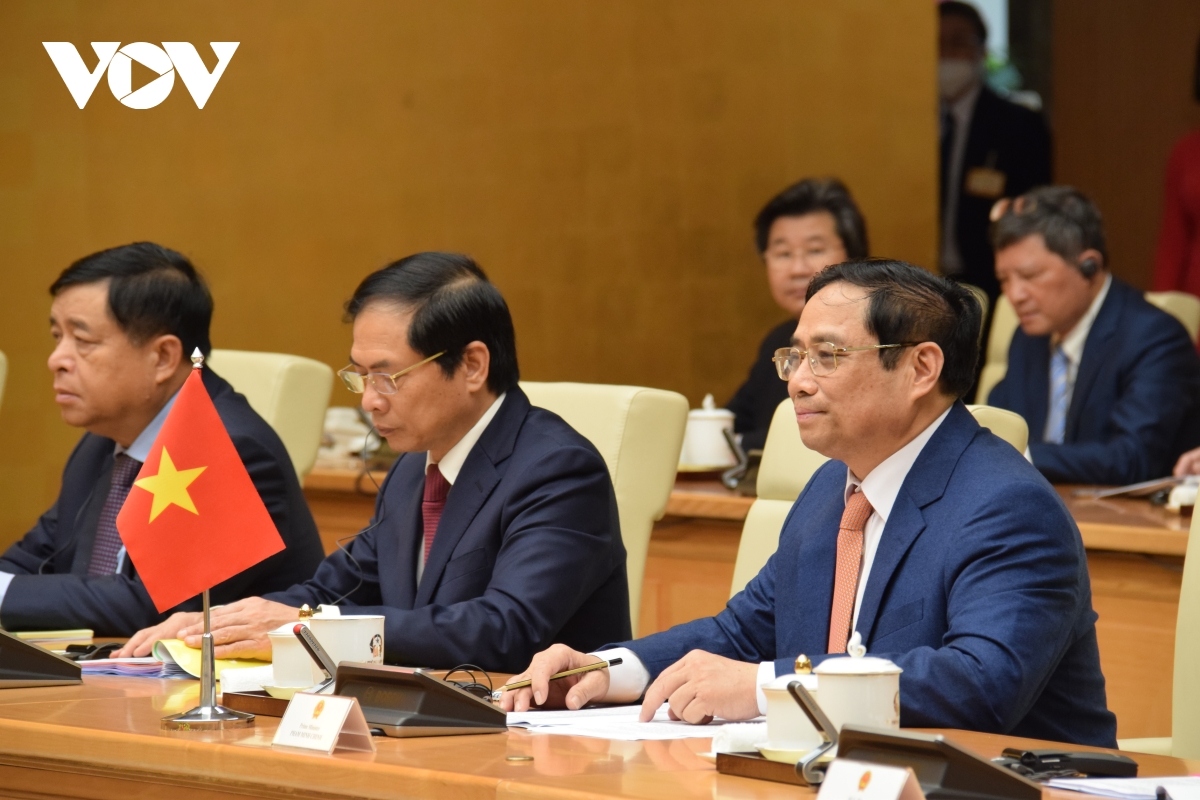 The two PMs welcomed the considerable progress in carrying out the results of Prime Minister Pham Minh Chinh's official visit to Japan in November 2021, and concurred to step up cooperation in post-COVID-19 economic recovery.
They agreed to effectively implement the new-generation ODA loan program with preferential conditions, flexibility, simple and long-term procedures relating to the fields of strategic infrastructure construction associated with traffic infrastructure development, digital transformation, climate change response, health care, technological innovation, and supply chain promotion.
The two sides will speed up procedures regarding Japanese opening of its market for Vietnamese longan exports in September 2022, and continue to create favorable conditions for other Vietnamese fruits such as grapefruit, avocado, and rambutan to enter the Japanese market.
This is addition to ramping up cooperation in technology transfer in order to help Vietnam become involved more deeply in global and regional supply chains. Japan will support Vietnam in accelerating digital transformation, building a digital government, digital economy, and digital society, and make a commitment to reaching net zero emissions by 2050.
Both sides will boost closer collaboration in security-defence, UN peacekeeping operations, and war consequences settlement in Vietnam.  
PM Chinh asked Japan to assist Vietnam in successfully carrying out the cause of industrialization, modernization, independence, economic self-reliance and deeper international integration, while suggesting both sides set up a working group on this issue.
The Japanese PM re-affirmed that his nation treasures its relations with Vietnam and will continue to work with and support the South East Asian nation in boosting socio-economic development, receiving Vietnamese trainees and students, and assisting the Vietnamese community in Japan.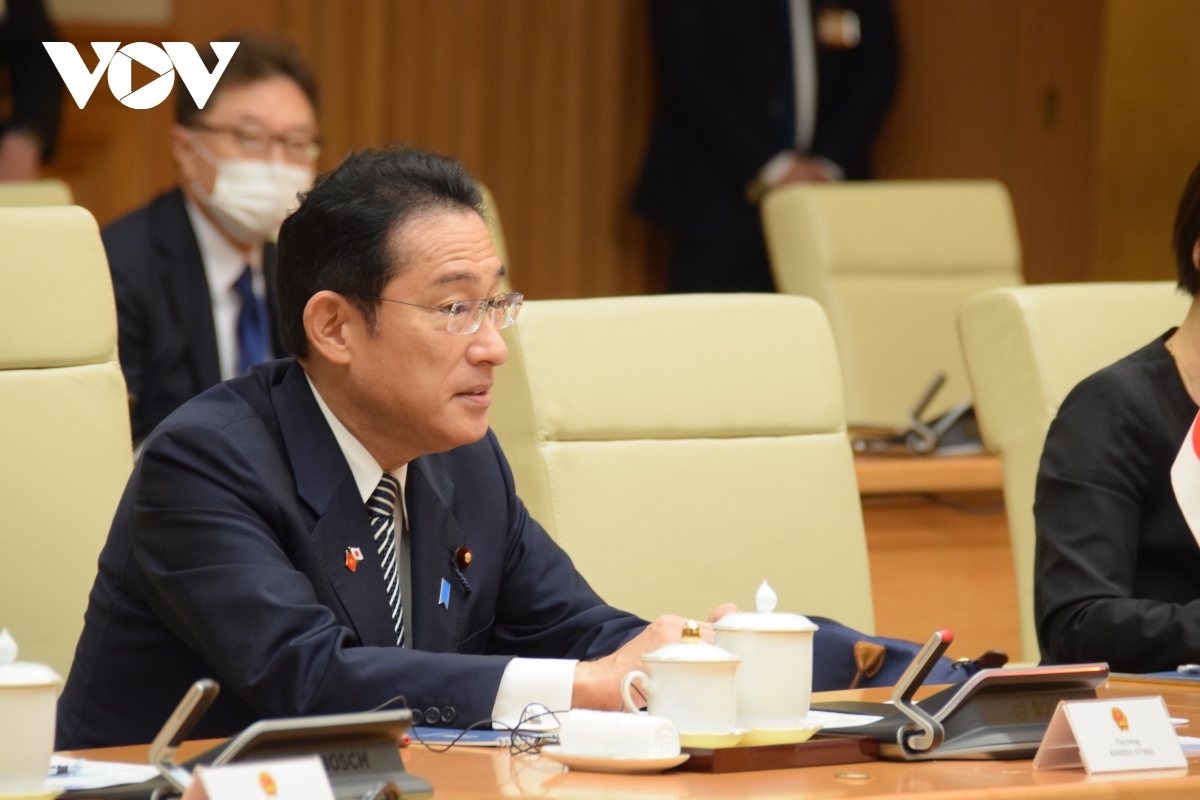 Host and guest underlined the importance of boosting post-COVID-19 cooperation, promoting cross- cultural, people-to-people exchanges and tourism, and agreed to closely coordinate launching a range of activities to celebrate the 50th anniversary of the two countries' diplomatic relations in 2023 on a par with the extensive strategic partnership.
They also agreed to work closely at international and regional forums such as ASEAN, and the United Nations, make greater efforts to respond to global challenges such as climate change, and epidemics, as well as realizing the Comprehensive and Progressive Agreement for Trans-Pacific Partnership (CPTPP) and the Regional Comprehensive Economic Partnership (RCEP).
The two leaders also compared notes on the Ukraine issue. PM  Chinh shared Vietnam's comprehensive view on humanitarian issues and affirmed the nation's recognition of great importance to humanitarian issues. Chinh told his guest that Vietnam will provide US$500,000 in aid to Ukraine through international humanitarian organizations and the decision earned plaudits from  PM Kishida Fumio.
Regarding the East Sea issue, the pair underscored the importance of ensuring security, safety and freedom of aviation and maritime activities, and of settling disputes and differences by peaceful means, including full respect for diplomatic and legal processes, no use of force and no threat of the use of force, on the basis of international law, especially the 1982 UN Convention on the Law of the Sea. They also pointed to the significance of the full, comprehensive and effective implementation of the Declaration on the Conduct of Parties in the East Sea (DOC) and the early completion of an effective and substantial Code of Conduct of Parties in the East Sea (COC) that is legally binding and in accordance with international law.
On the occasion, both sides adopted an updated document on the progress of cooperation in eight aspects, namely health care (including COVID-19 prevention and control), investment-trade, ODA-infrastructure, people-to-people exchange, environment-climate change, judicial affairs, defence-security, and culture-education. According to the document, most agreements and projects reached during PM Chinh's visit to Japan are making great progress.  

Following the talks, the two PMs witnessed the exchange of 22 cooperation documents between ministries, agencies, localities and enterprises of the two countries.

They then co-hosted a press briefing on the major outcomes of their talks in which, PM Chinh said both sides looked into the progress in the implementation of the agreements reached at their meeting in Tokyo last November. They reached a high consensus on the orientations and detailed measures for opening up a new development stage for the "Extensive Strategic Partnership for Peace and Prosperity in Asia" between Vietnam and Japan.

Accordingly, they affirmed the importance of promoting the extensive strategic partnership in a more substantive, effective, and extensive manner. They shared the view that the two countries have made new strides in developing strategic infrastructure of Vietnam, agreeing to work hand in hand to  speed up transport infrastructure projects moving forward.
On the same day, the two PMs delivered important speeches at a seminar on bilateral cooperation in technology renovation, digital transformation and supply chain diversification.
The event was co-hosted by the Vietnam Ministry of Industry and Trade and Japan External Trade Organization (JETRO).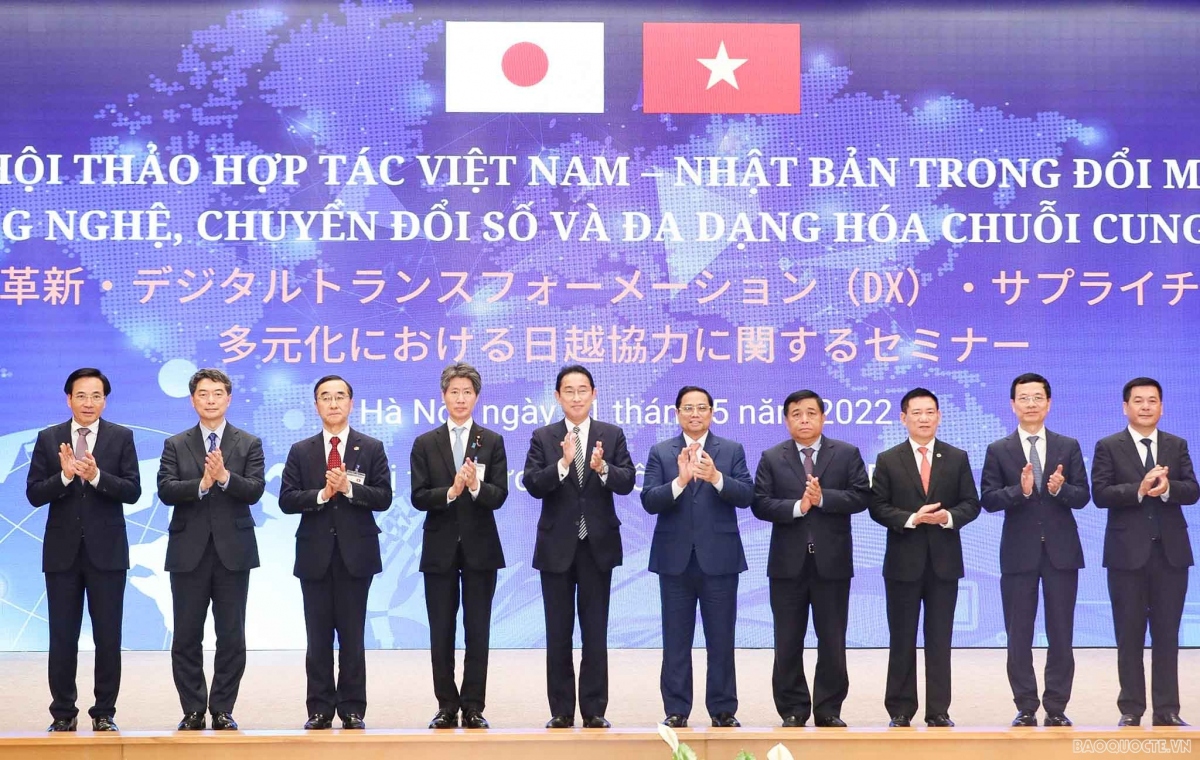 Addressing the conference, PM Chính said that the Vietnamese and Japanese economies boast huge potential to complement one another and collaborate in different sectors, especially in technology innovation, digital transformation and supply chain diversification.
The two countries can collaborate to  boost digital transformation, thereby moving towards establishing a partnership in digitalisation in the future, adding that Vietnamese government will assist and offer favourable conditions for both nations' businesses  to further collaborate in all sectors. 
PM Kishida, in turn, said that he believed the possibilities for cooperation between Japan and Vietnam are limitless.
Supporting industries are crucial to the stable operation of Japanese enterprises in Vietnam. The two countries are also expected to work together on dealing with socio-economic issues through digital transformation and supply chain diversification,.
However, plenty of challenges in this process demand fitting and comprehensive solutions. In the future, with the determination and support of both countries' leaders, cooperation in technology innovation, digital transformation and supply chain diversification will be an opportunity and useful instrument to ensure sustainable development toward the trusted strategic partnership between the two countries.