Vietnam, Cambodia treasure traditional friendship, relationship
Tuesday, 21:45, 21/12/2021
VOV.VN - Cambodian King Norodom Sihamoni welcomed Vietnamese President Nguyen Xuan Phuc's visit in Phnom Penh on December 21, which he said would contribute to further strengthening the traditional friendship and comprehensive cooperation between the two countries.
The King expressed his deep gratitude to the State and people of Vietnam for helping the Cambodian people escape from the previous genocidal regime, as well as for supporting Cambodia in the present day construction and development of the country.
He affirmed that he would continue to support the traditional friendship between the two countries as his father - late King Norodom Sihanouk -did before.
The King took the occasion congratulating Vietnam on the great achievements it has recorded locally and internationally, that helped elevate the country's position both regionally and globally.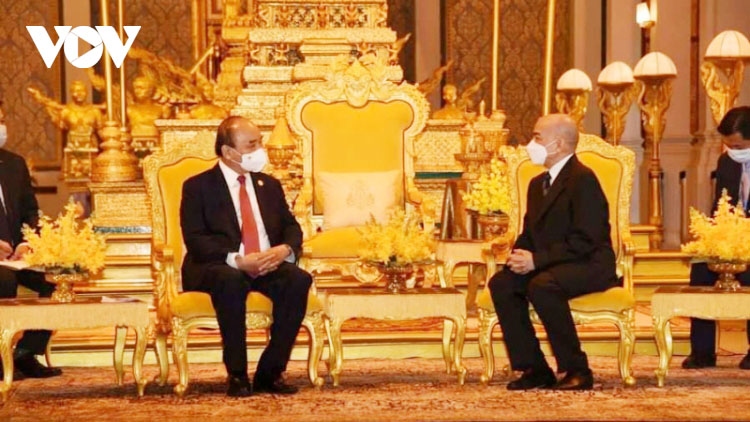 For his part, President Phuc congratulated Cambodia on its important development achievements under the reign of King Norodom Sihamoni, creating a firm foundation for realizing the goal of turning Cambodia into a middle-income country by 2030 and a high-income country by 2050.
He affirmed that the State and people of Vietnam always respect, appreciate and remember valuable support and assistance that the late King Norodom Sihanuk, King Norodom Sihamoni, and many leaders and people of Cambodia have given to Vietnam during its struggle for national independence in the past, and the current cause of national construction and development.
Both host and guest expressed their delight at the positive development of the traditional friendship and comprehensive cooperation between the two countries in recent times, noting that despite the impact of the COVID-19 pandemic, bilateral cooperation in all areas, from politics, diplomacy, and security to economy, trade, investment, transport connectivity and education-training has been consolidated and strengthened.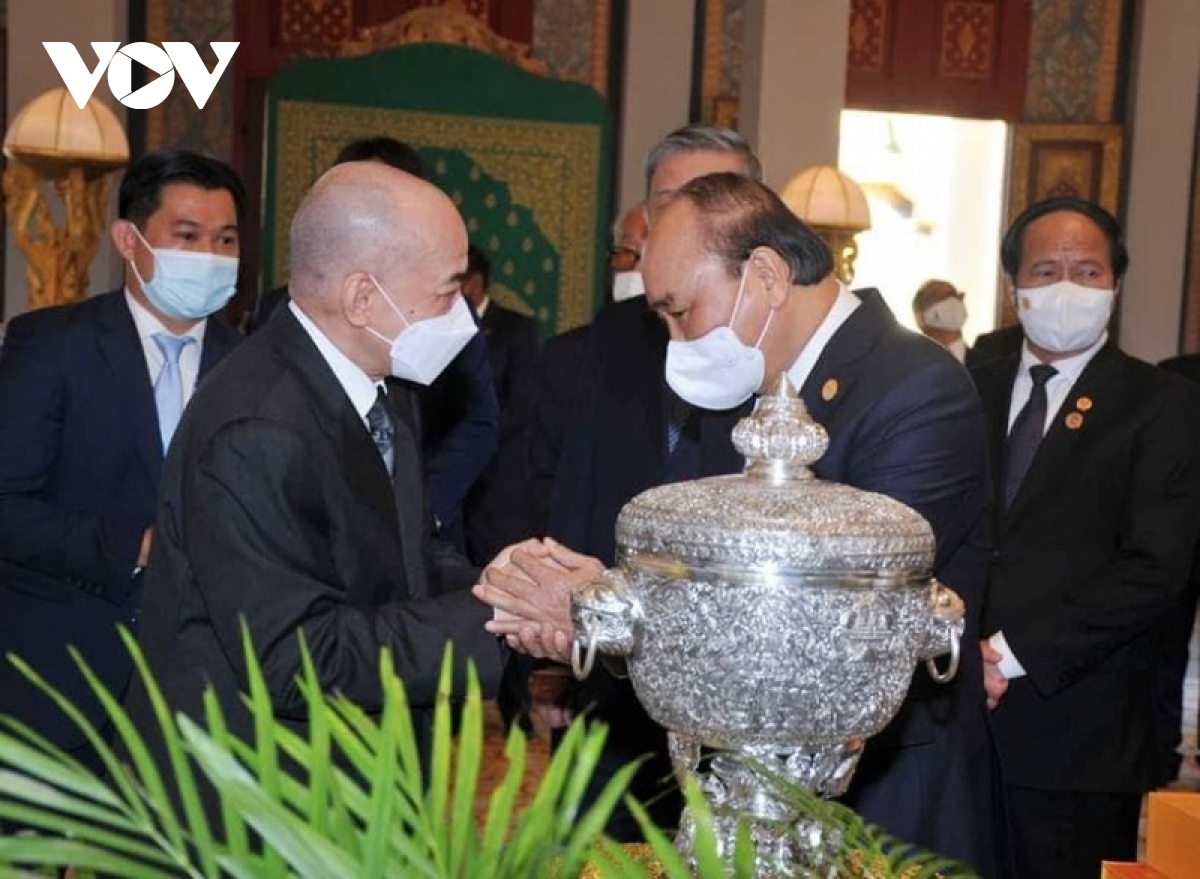 They affirmed that they will continue to give the highest priority to and do their best to cement the increasingly fruitful relationship between the two countries.
The two leaders agreed that Vietnam and Cambodia will work closely in 2022 to organize a series of events to mark their Friendship Year and 55 years of their diplomatic ties.
President Phuc conveyed to His Majesty the greetings of General Secretary Nguyen Phu Trong and other senior Vietnamese leaders, and cordially invited King Norodom Sihamoni to visit Vietnam at an appropriate time.
King Norodom Sihamoni expressed his thanks and happily accepted the invitation.