Vietnam calls for more efforts to stabilise situation in Bosnia and Herzegovina
Wednesday, 18:04, 30/06/2021
Vietnam has called for increased efforts to address challenges, stabilise the political situation, develop the economy and improve the lives of the people of Bosnia and Herzegovina.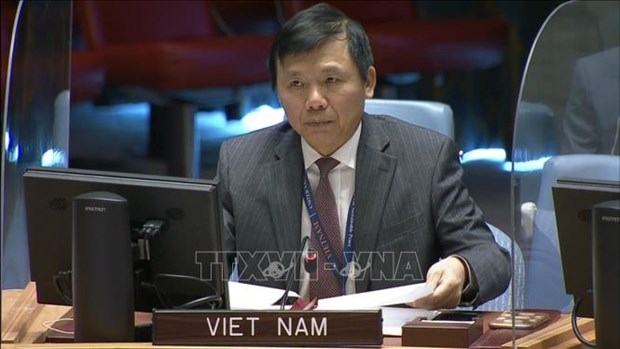 Ambassador Dang Dinh Quy, head of the Vietnamese Mission to the United Nations (UN), made the statement while addressing a meeting of the UN Security Council on the situation in Bosnia and Herzegovina on June 29.

Quy expressed his concern about the complicated developments in Bosnia and Herzegovina which affected the sustainable peace, solidarity and prosperity of this country.

He affirmed that Vietnam supported the observance of international law, the role of regional institutions as well as international and regional treaties. The disputes should be settled by peaceful means in accordance with UN Charter, including mediators, he said, asking the parties to dialogue in order to seek common views for peace, stability and development in Bosnia and Herzegovina, as well as in the whole region.

At the meeting, UN member states shared their views on the situation in Bosnia and Herzegovina, as well as the procedure for appointing Christian Schmidt to succeed incumbent High Representative Valentin Inzko.

Addressing the UNSC meeting, Minister of Foreign Affairs of BiH, Bisera Turkovic, said the High Representative in Bosnia and Herzegovina played an important role in the implementation of the Dayton Peace Agreement. Accordingly, she called on the members of the Executive Board of the Peace Implementation Council to continue to support the activities of the High Representative and the Office of the High Representative, especially for the appointment of a new High Representative on August 1.

Herve Lecoq, Officer-in-charge of the Europe and Central Asia Division of the UN Secretariat expressed worry about the situation in Bosnia and Herzegovina, especially division and hatred.
While affirming that the UN will continue to support the country, he emphasised that the people of Bosnia and Herzegovina have a vital role in helping the country overcome the challenge of the COVID-19 pandemic, strengthen solidarity and look to the future.

Also on June 29, with 15/15 votes in favour, the UNSC unanimously adopted Resolution 2581 and 2582 extending the mandate of the United Nations Disengagement Observer Force (UNDOF) and the sanctions related to the Democratic Republic of Congo.

Resolution 2581 renews the mandate of UNDOF until December 31, 2021 to continue to monitor the 1974 Disengagement of Forces Agreement between Israel and Syria in the Golan Heights.

Resolution 2582 extends the sanctions mechanism related to DR Congo until July 1, 2022, and the mandate of the Working Group to support this mechanism until August 1, 2022. Security instability in the eastern DR Congo continued in recent days, mainly due to illegal exploitation and smuggling of natural resources by armed groups. Thus, the UNSC has retained the application of arms embargo, travel ban and asset freeze since 2003 to support the maintenance of security and stability in the country.