Vietnam attends 9th Moscow Conference on International Security
Wednesday, 08:22, 23/06/2021
Vietnamese Minister of National Defence Sen. Lieut. Gen. Phan Van Giang delivered a speech on strategic views on regional security at the second plenary session of the 9th Moscow Conference on International Security on June 23.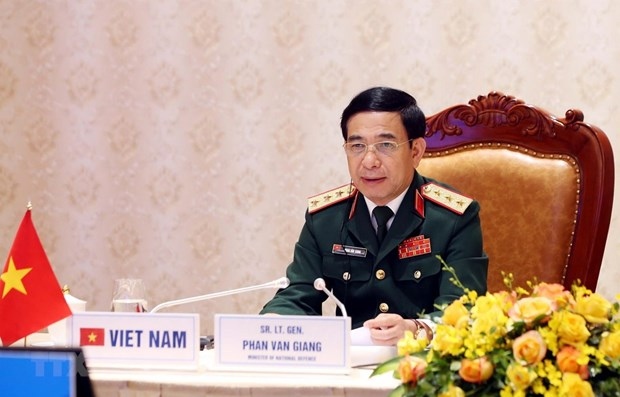 The minister said Asia-Pacific has become momentum of global growth and taken the lead in economic connectivity, which is also the centre of the global strategy.

He, however, pointed to potential uncertainties in the region, including traditional and non-traditional challenges such as sovereignty and territory disputes, proliferation of weapons of mass destruction, ethnic and religious conflicts, terrorism, cyber security, natural disasters, and notably COVID-19.

Vietnam appreciates Russia's role in the region, especially in cooperation within the ASEAN Defence Ministers' Meeting Plus (ADMM), as well as proposals for multilateral cooperation between the country and ASEAN like the ASEAN-Russia Defence Ministers' Informal Meeting and joint naval exercise, Giang said.

He affirmed that Vietnam will maintain its defence policy of peace and self-defence, and resolutely and persistently address all disputes and conflicts, including the East Sea dispute, by peaceful measures in line with international law and regional regulations.

The country will also play a more active role in cooperation with foreign countries, including Russia, to protect a peaceful and stable environment for national development and people's life, he continued.

Vietnam acknowledges values of peace, and will make every effort to contribute to protecting peace, for the sake of itself and other countries, the officer said.

The conference takes place virtually on June 23-24 under the chair of Russian Defence Minister General Sergey Shoygu.

With five plenary sessions, it focuses on strategic stability: transformation and prospects; the Asia-Pacific region in the context of global politics; military and military-technical cooperation in Africa and the Middle East as a major factor in strengthening regional security; military interaction as a tool for countering regional challenges and threats in Latin America and the Western Hemisphere; and European security: trends and prospects.

There are also two thematic sessions on the role of military agencies in fighting against the new coronavirus disease COVID-19, and information security: problems and solutions.