Top Vietnamese leader hosts Japanese PM
Monday, 18:03, 19/10/2020
VOV.VN - Party General Secretary and State President Nguyen Phu Trong hosted a reception in Hanoi on October 19 to welcome Japanese Prime Minister Yoshihide Suga, who is on an official visit to Vietnam from October 18-20.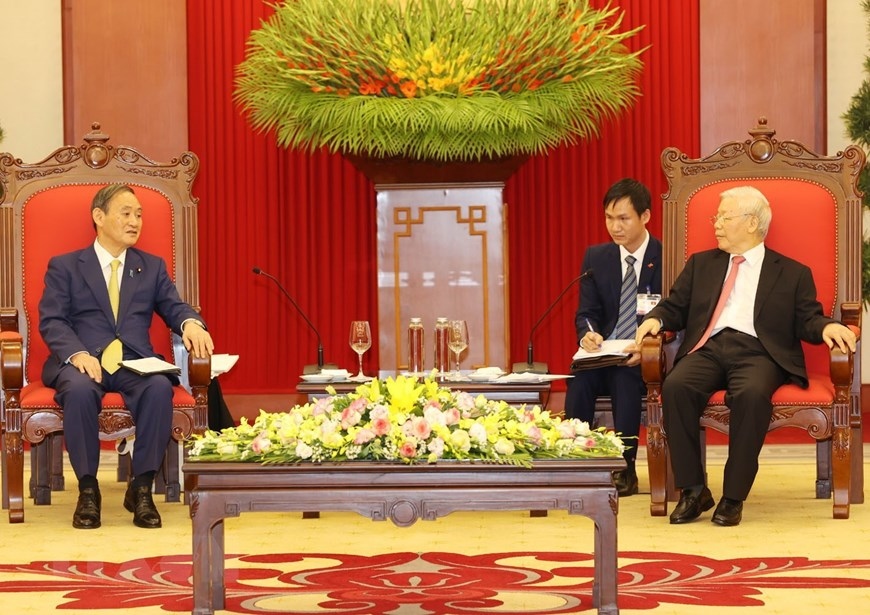 During the meeting, General Secretary Trong expressed his appreciation for PM Suga's choice of Vietnam as the destination for his first foreign visit after taking office, with the trip showing deep respect for the nation and serving as a positive indication of relations between two countries.
The top Vietnamese leader stated that he is glad to see relations between both sides grow in recent years, with substantial and effective strides made with high political confidence across multiple fields in the spirit of the Joint Vision Statement on Japan – Vietnam Relations. Indeed, the two countries have clearly shown the spirit of enjoying a broad strategic partnership, representing good friends in difficult times, whilst sharing, actively co-operating, and supporting each other during the fight against the novel coronavirus (COVID-19) epidemic.
In response, PM Suga showed his elation at being able to return to Vietnam in his new position, while expressing his thanks to General Secretary Trong, in addition to the leaders and people of Vietnam for providing the high-level Japanese delegation with a warm and sincere welcome.
He also expressed how impressed he has been with Vietnamese achievements in the Doi Moi process, known as the renewal process in English, as well as its success in containing the COVID-19 pandemic.
The Japanese official went on to state that the Far East nation places great importance on the Vietnamese position in the region and will always support the country's development. He went on to add that the new Japanese Government will aim to comprehensively develop the extensive strategic partnership between both sides, which has been developed by the two countries' leaders over generations.

Furthermore, PM Suga informed his host about the results of talks with Prime Minister Nguyen Xuan Phuc, affirming a desire to maintain high-level exchanges across all levels in practical and effective forms. This should be done as a means of gradually restoring travel and co-operation activities in all fields between the two nations.
General Secretary Trong said that Vietnam has been successful in controlling the COVID-19 pandemic and will actively prepare for the 13th National Party Congress. The nation will move forward with its consistent foreign policy of independence, self-reliance, peace, co-operation, development, multilateralisation, and diversification. This will be done alongside promoting in-depth relations with partners, with Japan defined as a vital important and long-term strategic ally with high reliability.
Moreover, he noted great appreciation for Japan's stance on the East Sea issue, including the settlement of disputes through peaceful methods in line with international law, especially the 1982 United Nations Convention on the Law of the Sea (UNCLOS).
The two leaders also expressed their confidence that the relationship between the ruling parties of each nation will continue to develop on the basis of a Memorandum of Understanding on co-operation between the two parties, therefore creating a positive political foundation for developing bilateral relations across a variety of fields. Following this, PM Suga wished great success for the 13th National Party Congress of Vietnam.