PM Chinh hails China's important contributions to regional cooperation and prosperity
Sunday, 16:27, 17/09/2023
VOV.VN - ASEAN member states, including Vietnam, always acknowledge China's important contributions to promoting cooperation and common prosperity in the region.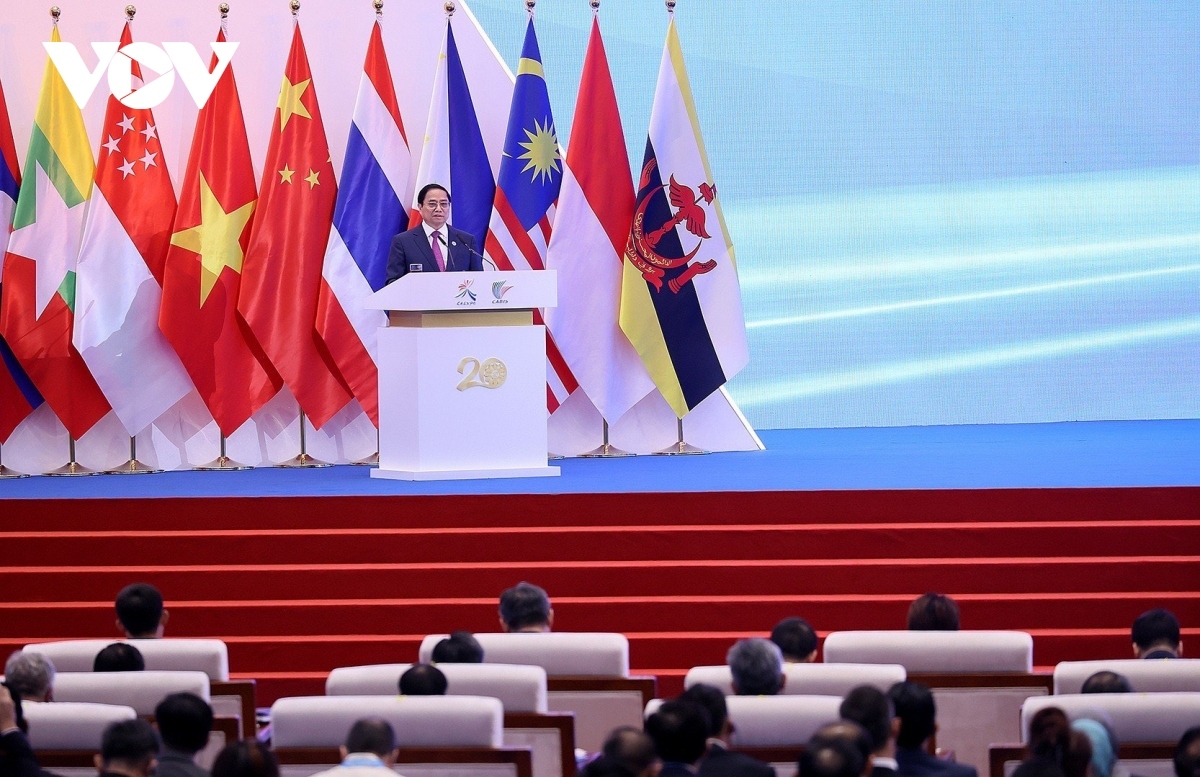 The statement was made by Prime Minister Pham Minh Chinh in his speech delivered at the 20th China-ASEAN Expo (CAEXPO) in Nanning city, China's Guangxi province, on September 17.
The expo is viewed as an important and prestigious event on economic, trade and investment cooperation of the ASEAN-China business community, and has become a symbol and guiding flag of economic, trade and investment cooperation between China and the regional bloc.
Upon addressing the event, PM Pham Minh Chinh congratulated China as a big nation, developing into a rich, strong, modern, harmonious and beautiful socialist power.
China is currently promoting international cooperation initiatives of Party General Secretary and President Xi Jinping to serve the goals of peace, cooperation, development and prosperity in the region and the world as a whole.
Vietnam supports cooperation and assistance in the spirit of openness, sincerity, trust, equality, connecting the belt and road for common prosperity of peoples in the region and the world.
In the most difficult times, China always enhances its role as a "responsible big country" and serves as a pillar of stability for the regional economy through its commitment to opening the market, promoting investment and expand areas of cooperation with ASEAN and providing vaccines against the COVID-19 pandemic.
Vietnam wishes to continue with China and ASEAN members to urgently complete negotiations to upgrade version 3.0 of the ASEAN-China Free Trade Agreement, improve road and rail transport infrastructure connections, pilot and expand the smart border gate model in order to better meet the investment, business, trade, culture and tourism needs of the business community and people of each nation.
It is essential to strengthen strategic development connectivity, both hard and soft infrastructure, the Vietnamese Government chief said, adding that with the huge need for infrastructure investment from ASEAN, all parties need to promote high-quality, harmonious, mutually beneficial connections between the "Belt and Road" and ASEAN's perspective on Indo-Pacific cooperation, as shared by leaders at the recent ASEAN-China Summit.
Chinh also underlined the need to enhance transport infrastructure connections, coordinate forms of transport, especially railways and roads, while connecting more widely to ASEAN members as well as through China to bring ASEAN goods to Europe, and Central Asia.
In this process, Vietnam supports promoting the role of Guangxi as a bridge, helping Guangxi realize the vision and three major targets that the Chinese Government has devised, especially becoming a "gateway" towards ASEAN.
Vietnam is proud to be an active member contributing to the overall success of 20 CAEXPO and CABIS editions.  The same day, PM Chinh pressed the button to inaugurate the Vietnamese pavilion at event
Among the participating ASEAN countries, Vietnam's pavilion had the largest scale with about 200 booths covering an area of nearly 5,000 sq.m, displaying high-quality Vietnamese products and services.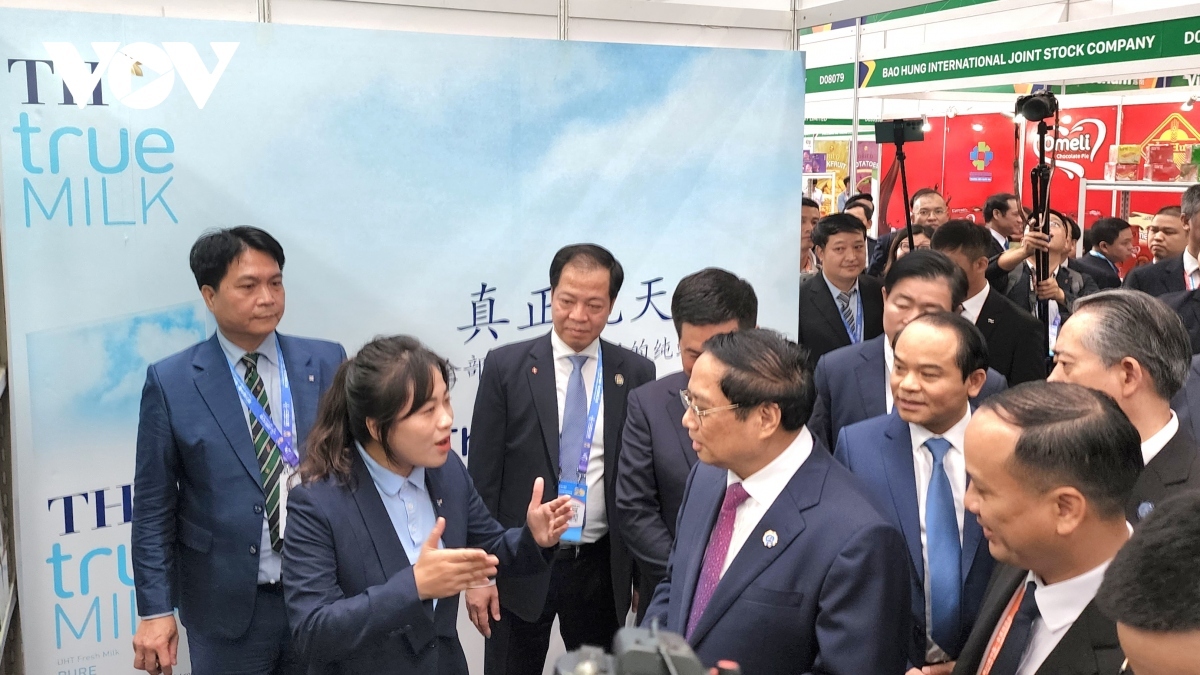 In his remarks, he noted his pleasure at the large number of Vietnamese businesses participating in the expo, saying many transactions signed on this occasion.
The flourishing Vietnam-China Comprehensive Strategic Cooperative Partnership has created the foundation for the bilateral trade ties. However, ample room remains for the investment and trade relations.
The Vietnamese Government chief asked businesses, ministries, agencies and localities to step up investment promotion activities, reform production technology, raise product quality, and build strong brands to facilitate the access of Vietnamese goods to China as a contribution to deepening the Vietnam-China relationship in a practical and effective manner.
He said he hopes that with the geographical advantage, Vietnam will become a goods entrepot and a crucial link in the supply chain between ASEAN and China.
On September 17, PM Chinh and his entourage  arrived in Hanoi, concluding his trip to China to attend the 20th China-ASEAN Expo (CAEXPO) and China-ASEAN Business and Investment Summit (CABIS) in Nanning city, China's Guangxi province, from September 16-17, at the invitation of the Chinese Government.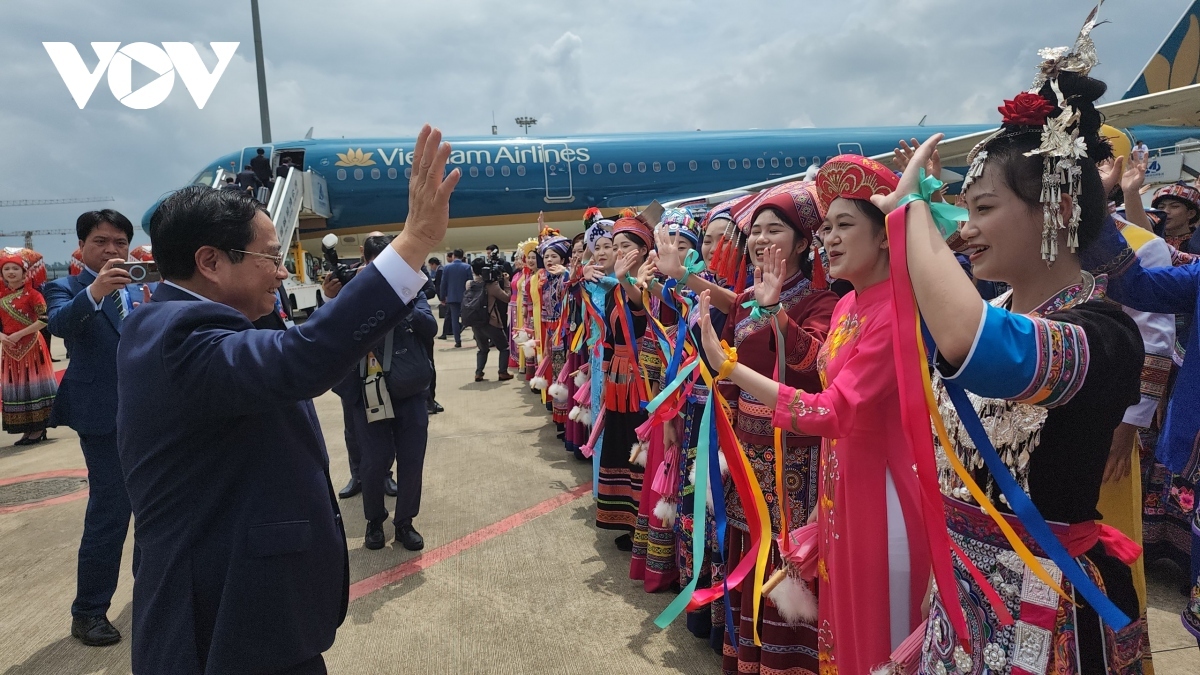 While in Nanning, the PM attended and delivered a speech at the opening ceremony of the 20th CAEXPO and CABIS, visited exhibition areas and trade pavilions of Vietnam and other participating countries, and joined official activities within the framework of the expo and the summit.

He also had meetings with leaders of China and Guangxi province and received representatives from leading Chinese and ASEAN businesses to promote investment, production, and business cooperation.
The business trip contributes to consolidating political trust, fostering bilateral relations between Vietnam and China, and stepping up practical cooperation, especially in economics and trade, between Vietnam and China in general and between Vietnamese localities and China's Guangxi in particular.