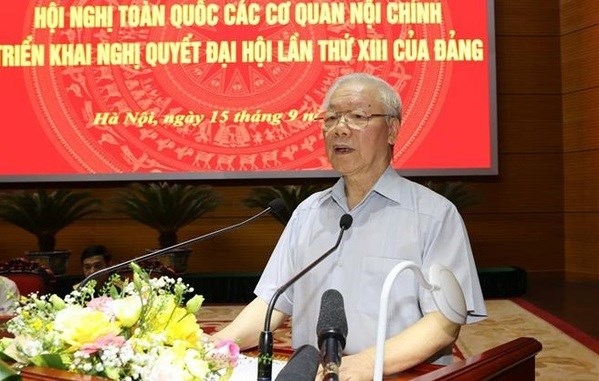 The Party leader made the comment while delivering a speech at a national conference of agencies in charge of internal affairs across the country to implement the 13th National Party Congress' Resolution, which was held on September 15 in both in-person and online forms with the participation of more than 4,600 delegates across the country.

He held that the agencies have actively given useful advice to the Party and State in directing the settlement of corruption and negative phenomena in a timely and strict manner, thus affirming the Party and State's determination and efforts to combat corruption with the spirit of not allowing any "restricted areas and exceptions".
Regarding future tasks and orientations, the Party chief asked these agencies to make early forecasts and right evaluations of the situation, clearly identify risks and put forth recommendations to the Party and State in order to safeguard the interests of the nation, and ensure security and order.

Party General Secretary Nguyen Phu Trong underlined the need for the agencies to keep close contact with the people and place the people's interests to the highest and first position, protect brave officials who dare to think, work, speak out problems, take the responsibility, make innovations, confront difficulties and challenges and act for the common benefits.

Officers, soldiers and public servants from the agencies should keep vigilant, sustain mettle and stay brave to defend the right without being affected by any impure pressure, temptation and bribery, he stressed.

The Party leader expressed his belief that with the tradition of solidarity and high sense of responsibility, internal affairs agencies will effectively implement the Resolution of the 13th National Party Congress, thus continuing to strongly reform their organisational apparatus and operations, gaining more achievements and making greater contributions to the cause of national construction and defence.