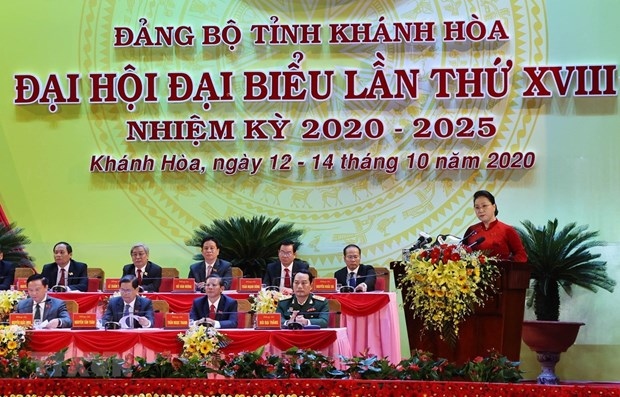 Addressing the 18th congress of the provincial Party organisation for the 2020-2025 tenure, Ngan recalled that, in 2012, the Politburo issued Conclusion No 53 on building and developing Khanh Hoa province to 2020 with a vision to 2030, which directed the province towards becoming an economic, tourism, science and technology, and human resources training centre for the sea-based and tourism economies.

To that end, the locality now needs to speed up provincial planning in accordance with regional- and national-level planning, she said, stressing the importance of its role and position in boosting connectivity in the south-central and Central Highlands regions and the East-West Economic Corridor, while at the same time focusing on developing industry, high-quality tourism, and the sea-based economy.

The Politburo member also requested Khanh Hoa promptly take measures to improve its business and investment environment and increase the quality of its infrastructure, services, and human resources to welcome new FDI flows, and to prioritise projects that use high, new, and environmentally-friendly technologies.

It is necessary to bring into full play investment incentives in the revised Investment Law to attract more major projects, and to take advantage of the opportunities brought about by bilateral and multilateral agreements, especially new-generation free trade agreements such as the Comprehensive and Progressive Agreement for Trans-Pacific Partnership (CPTPP) and the EU-Vietnam Free Trade Agreement (EVFTA), so as to effectively participate in global value chains.

The leader also highlighted the importance of prioritising investment in developing education, training, health, and socio-culture, stepping up the application of science and technology and fully implementing social welfare policies.

To increase the quality of the healthcare sector, the province should intensify links with major hospitals in Hanoi and HCM City to bolster check-up and treatment quality, and focus on developing medical tourism, Ngan suggested.

Khanh Hoa holds an extremely important strategic location in defence and security, as it is a gateway to the Central Highlands and home to Cam Ranh Military Port and Truong Sa (Spratly) island district, Ngan noted, meaning the province must mainstream socio-economic development with consolidating defence and security and building an all-people defence posture.

It must take the initiative in maintaining political-security stability and social order and safety, and safeguarding national sovereignty and territorial integrity over Vietnamese sea and islands, she emphasised.

The leader also stressed the need to elect competent members to the Executive Board of the provincial Party organisation in the 2020-2025 tenure.

The 18th Congress of the provincial Party organisation will close on October 14.