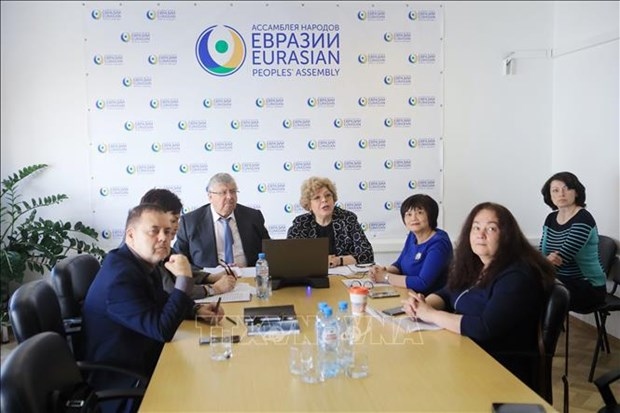 During an international workshop held by the Eurasian Peoples' Assembly (APE) in Moscow, Russia, on April 6, participants also praised Vietnam's dynamic development and its role in linking projects and development initiatives to further promote the Asia – Europe partnership.
In his speech, APE General Secretary Andrei Belyaninov congratulated newly-elected Vietnamese leaders, noting that the Russian people have always followed Vietnam's achievements with their sincerity and respect.

Belyaninov said Vietnam has become an "emerging tiger in Asia" with a rapidly growing economy and a large market, expressing his hope that Russia and Vietnam will jointly promote people-to-people diplomacy in the time to come.

Sharing this view, Minister in charge of Integration and Macroeconomics of the Eurasian Economic Commission Sergei Glazyev affirmed that Vietnam is actively participating in the regional integration process, and is a pioneer in establishing a free trade area with the Eurasian Economic Union.

He noted with delight that bilateral trade between Russia and Vietnam has been growing despite the COVID-19 pandemic.

For her part, President of the Vietnam Union of Friendship Organizations (VUFO) Nguyen Phuong Nga briefed participants on Vietnam's goals and visions set in the Resolution of the 13th National Congress of the Communist Party of Vietnam (CPV).

According to Nga, international solidarity and assistance was one of the factors that have helped Vietnam to gain successes in the cause of national construction and protection.

Participants also analysed the possibility to connect development projects and initiatives, as well as ways to further expand partnerships and people's diplomacy within the Eurasian region.

In an interview granted to the Vietnam News Agency's correspondent in Russia, Svetlana Smirnova, First Deputy Secretary General – Head of the General Secretariat of the APE, positively evaluated the results of the workshop, stressing that it opened an important direction for the cooperation between the APE and Vietnam.

She revealed that a festival of Eurasian nations will be organized in Vietnam  in the coming time, which will cover a series of activities such as sport exchange, Eurasian business forum, and youth cooperation.