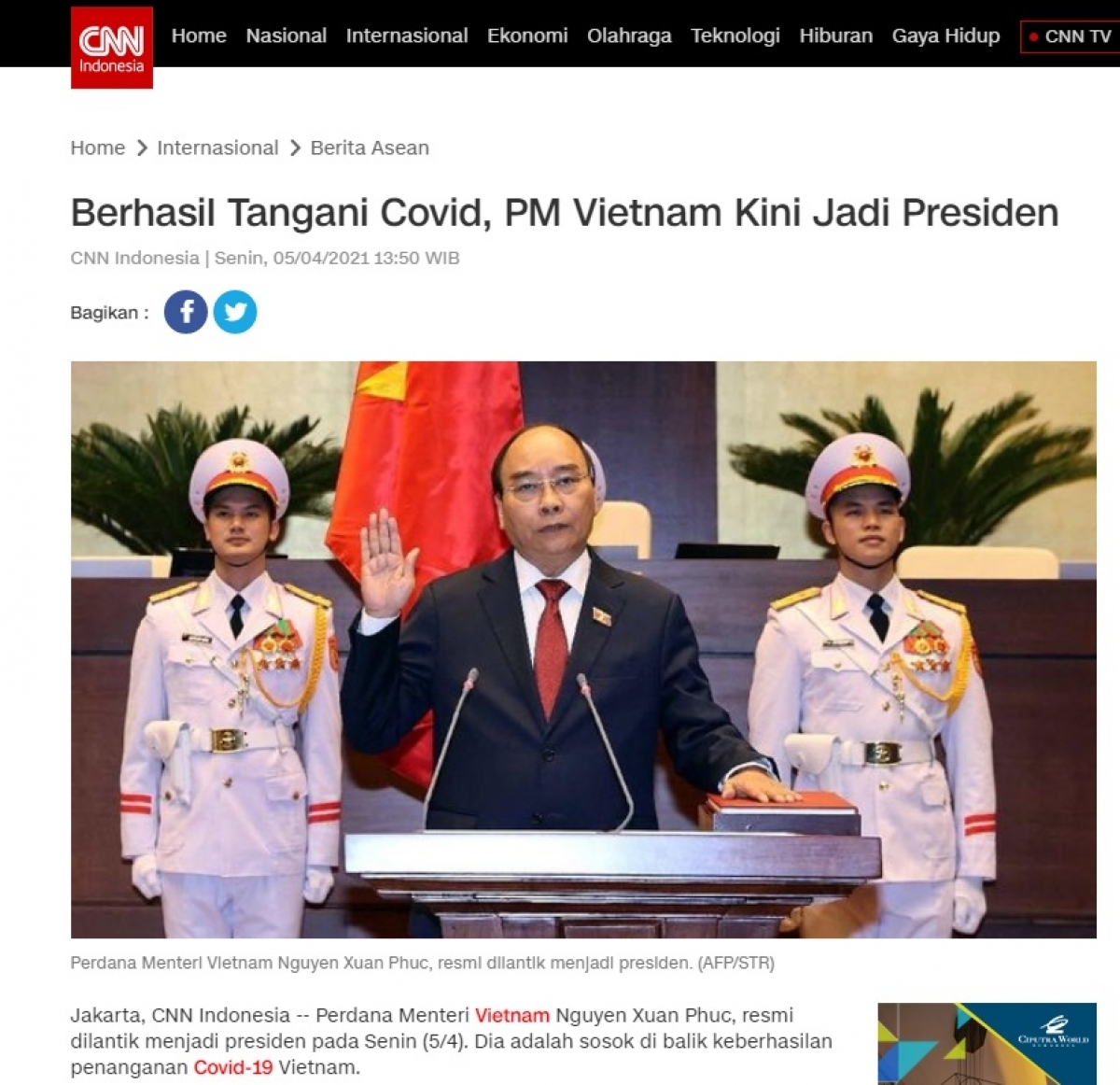 Newswire CNN Indonesia also provided coverage of the swearing-in ceremony of new President Nguyen Xuan Phuc, featuring his previous positions and various achievements recorded during his term of office.
The article highlighted President Phuc's efforts to direct the national economy as it strives toward rapid development, whilst also effectively responding to the COVID-19 pandemic, efforts which have earned plaudits both at home and abroad.
The author of the article also quoted political expert Nguyen Khac Giang of Victoria Wellington University in New Zealand as saying that President Phuc's experience in maintaining relations with the United States under the administration of Donald Trump will serve him in good stead as he conducts foreign affairs in his role as State Vice President.
Economic outlet Warta Ekonomi said that under the leadership of the former Prime Minister, Vietnamese GDP increased by 1.4 times compared to 2015. In terms of the global competitiveness index, the nation moved up 10 places to 67th out of 141 countries, according to the World Economic Forum.
Furthermore, several Indonesian newspapers also introduced new Vietnamese Prime Minister Pham Minh Chinh. Indeed, Antara News ran an article featuring the appointment of a former national security official to the role of Prime Minister, with the author summarising the positions that new PM Chinh has experience in after gaining the necessary approval votes at the 14th legislature.
Daily publication Rmol featured an article highlighting five major targets aimed at promoting Vietnamese reforms under PM Chinh in his first speech following the swearing-in ceremony held on April 5.
The new PM spoke of the importance of Government in boosting national construction and development, whilst also maintaining independence, sovereignty, unity, and territorial integrity, the article said.
He also underscored the need to devise an action plan aimed at implementing the resolutions adopted at the 13th National Party Congress.
Several other Indonesian newspapers also closely covered the results of the election of senior Vietnamese personnel. This includes the likes of Merdeka newspaper, the website of Berita Satu television channel, the Harian Aceh daily newspaper, the Today line, the Okezone website, the website of CNBC TV channel, and Tempo magazine, a leading Indonesian magazine detailing news and political events.