Ho Chi Minh City calls for overseas representative bodies' support
Friday, 16:01, 17/03/2023
VOV.VN - Leaders of Ho Chi Minh City have called for support from the heads of the country's overseas representative bodies for local development, during a meeting held on March 17.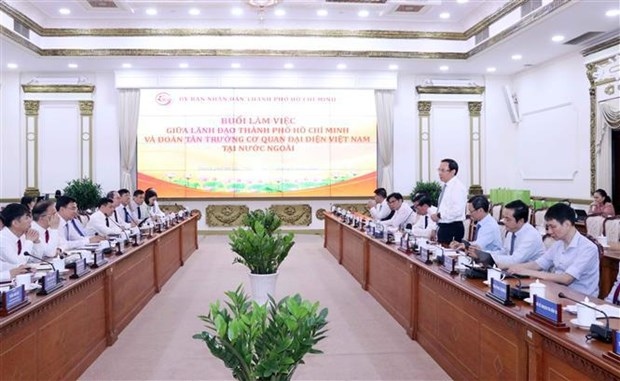 Nguyen Van Nen, a member of the Politburo and secretary of the municipal Party Committee, hailed opinions put forward by the new Vietnamese Ambassadors and greatly valued their sense of responsibility and aspiration to dedicate themselves to the nation.

He requested that the Ho Chi Minh City People's Committee soon outline a mechanism of co-ordination with overseas Vietnamese representative bodies as a means of contributing to local development.
Nen emphazised that the ambassadors and heads of overseas representative agencies are Vietnamese representatives in the eyes of foreign friends and partners, Nen therefore wished them good health; steadfastness in their stance, thought, and revolutionary ethics; as well as success in performing the tasks assigned by the Party, State, and people.
Phan Van Mai, chairman of the municipal People's Committee, thanked the Ministry of Foreign Affairs and Vietnamese overseas representative bodies for their considerable contributions to the southern city's development.
He called on the agencies to continue advising the southern city about development trends occurring globally, introducing urban management experiences and economic development models, as well as connecting the southern metropolis with resources to support local development.
Ho Chi Minh City continues to place great importance on the role of external affairs in terms of building its image, attracting development resources, and enhancing its international integration capacity, Mai noted, pledging support for the agencies and asking for their close co-ordination.

On behalf of the heads of overseas representative bodies, Deputy Foreign Minister Pham Quang Hieu said the ambassadors and heads of agencies are always aware of their role in contributing to the development of the southern metropolis, an vital economic locomotive and growth engine for the country.

He added they will do their utmost to help aid local development, whilst they also hope for co-ordination and assistance from Ho Chi Minh City in completing their duties.